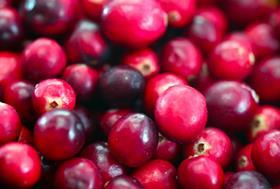 The US cranberry industry could be one of the big losers in the mounting trade dispute between the US and the European Union.
The red fruit has been included in a list of products published by the EU last week which would be subject to a 25 per cent tariff in retaliation for US tariffs on aluminium and steel.
According to Tom Lochner, executive director of Wisconsin State Cranberry Growers, the EU is America's biggest market, importing around 43,000 tonnes of cranberries a year or 12 per cent of the US's total output.
"This tariff would significantly hinder our ability to compete in these markets," Lochner said.
Wisconsin produces around 60 per cent of the total US cranberry crop, generating around US$1bn in revenue and 4,000 jobs.
The US is the world's leading producer of cranberries, and output has risen by around 20 per cent since 2010. Exports of fresh and processed cranberries were estimated at US$340m in 2016.
Other products targeted for sanctions by the EU include orange juice, bourbon whiskey, peanut butter and Harley Davidson motorcycles.