Consortium has teamed up with three-Michelin-starred chef Norbert Niederkofler for its new promotional materials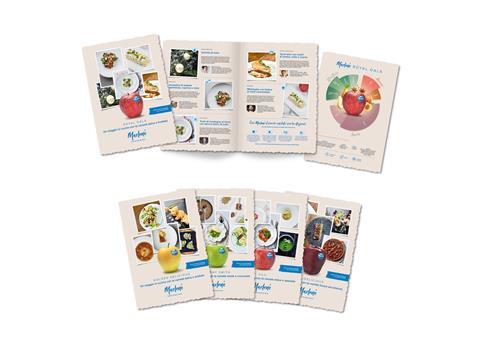 Vog, the South Tyrolean Consortium of apples, has unveiled the latest stage of its new marketing concept for the apple category.
The new variety folder celebrates the different aromas and flavours of Marlene apples through a collaboration with top chef Norbert Niederkofler and a new tool to help consumers identify different apple varieties.
Niederkofler, the South Tyrolean chef whose mountain cuisine has earned him three Michelin Stars and the Green Star for sustainability, has brought together four renowned chefs from Spain, Belgium, Morocco and Norway to jointly create 25 recipes that express the full potential of Marlene's five most popular varieties: Royal Gala, Golden Delicious, Granny Smith, Fuji and Red Delicious. The illustrated recipes, developed by Oliver Peña Luque, Basile De Wulf, Najat Kaanache and Jimmy Øien are presented in five folders, one for each of variety.
The consortium has also come up with an Aroma Wheel showing the different attributes of each variety by dividing their properties into three categories: structure, aroma and flavour. Each element corresponds to a colour shade allowing consumers to discover the special features of each Marlene apple at a glance. 
"With the Aroma Wheel, we have recounted the bouquet of aromas and flavours contained in an apple in a new and appealing way," said marketing manager Hannes Tauber.
"The variety folder is the second step towards bringing customers and consumers to a new dimension of the apple, with content that enhances positioning and promotes segmentation.
The consortium said it plans to launch the third phase of its new communication strategy in the autumn.
"At the start of the next sales season, we will close the circle of this innovative journey that will make the Marlene brand one of the leading players in the new ways of talking about apples," Tauber said.