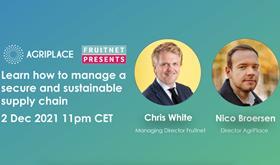 Next month's Fruitnet Presents & AgriPlace webinar will offer insights into how fresh produce companies canautomate the collection offood safety, social and sustainability information from suppliers and productsthroughout the supply chain.
With the world of food safety, social responsibility and sustainability evolving rapidly in recent years, consumers now want greater insight into such aspects of the products they buy. As a result, the challenge of ensuring the product fulfils customer requirements is growing.
At 10am GMT (11am CET) on Thursday 2 December, the Fruitnet Presents & AgriPlace webinar will look at howcompanies likeBerryWorldandKeelings automate insight into food safety and sustainability.
The webinar will be presented by Nico Broersen, account director of AgriPlace, and Chris White, managing director of Fruitnet.
Topics will include how food safety and sustainability have evolved and are likely to develop in the future, as well as how to save time inthe collection, validation and sharing of quality and sustainability information, while increasing insight.
The experience of various users of AgriPlace Chain, including BerryWorld, will also be shared with viewers.
AgriPlace Chain has a global network of 90,000 producers, including some of the largest companies in European fresh produce, such as Dole, BerryWorld, Keelings, Halls, Harvest House, Best Fresh Group, Roveg and Kolla.
Register for the free event taking pace on 2 December 2021: