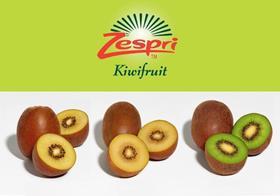 Kiwifruit marketer Zespri Europe says it is 'very excited' about its board's recent decision to launch three new varieties, including an early season gold variety, a long storing gold and an early green variety with a sweeter taste.
'The European Zespri team sees great potential for these cultivars on both trade and consumer level,' commented Louis Warnimont, the group's marketing manager for Europe.
'A lot of European clients have tasted one or more of these new fruits at the inauguration reception of the new European Zespri office. They were really excited about these products and we received a lot of positive feedback.'
According to Zespri, the reaction from consumers has been similarly positive. 'Extensive taste and sales tests in different European countries like Belgium, Holland, Spain, Sweden and Germany show a positive response towards these new fruits,' Mr Warnimont added.
'Both sales and taste tests towards consumers will continue in the coming months.'
The consumer tests currently underway represent only the latest step in a long process of research and development which has already been up and running for a decade.
Zespri has increased its R&D investment from NZ$5.2m (€2.9m) in 2003/04 to NZ$9m (€5m) during the last financial year, with the new cultivars programme accounting for the largest slice of its innovation budget.
Licences to plant or graft a total of 600ha of the three new varieties are due be granted in the coming months, with the application period for growers closing on Wednesday, 30 June.
'This is the next step in closing the window of 12-month supply,' said Luc Clerx, general manager of Zespri Europe. 'These new varieties can extend the selling seasons for Zespri kiwifruit.'
He added: 'Obviously, there is some commercial risk involved, as there always is in a new venture, and Zespri, our growers and partners will be carrying that risk. There is no certainty in business, but we are very confident, just as we were when we launched Gold a decade ago.'
As Zespri points out, its Gold variety Hort16A is regarded internationally as one of the most successful new fruit cultivars to have been released and commercialized by any group in the last 20 years.
The precise details of how the Zespri brand will be applied to the three new fruits, and what the packaging, labels and advertising visuals will look like, is something the company plans to develop over the next 12 months.
'This will be driven by the next stage of our consumer research,' Mr Clerx added.