Kiwifruit marketer expects record Northern Hemisphere harvest driven by SunGold growth
Zespri's kiwifruit harvest from the Northern Hemisphere is set to exceed previous sales volumes with the strong harvest supporting its efforts to deliver 12-month supply in key markets, maintain brand presence and shelf space and support New Zealand and offshore grower returns.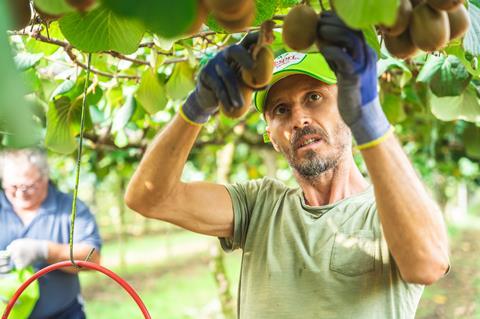 Zespri's Executive Officer - Northern Hemisphere Supply Nick Kirton said the Northern Hemisphere sales programme has just commenced with Zespri expecting to sell around 29m trays, or just over 100,000 tonnes of kiwifruit from orchards throughout France, Italy, Greece, Korea, and Japan. This compares to 24m trays or 88,000 tonnes last season.
"This season's harvest will be our biggest yet and we're looking forward to providing consumers with more high-quality and great-tasting kiwifruit as we transition from New Zealand-grown fruit to our Northern Hemisphere-grown fruit," Kirton said.
"The increase in volume also reflects the growth phase we are in, enabled by our year-round investment in the brand and building demand ahead of supply."
Across the Northern Hemisphere supply regions - which include Italy, France, Greece, Japan and Korea, Zespri has formed partnerships over more than 20 years with around 1,500 Zespri growers and suppliers who play a key role in Zespri's global supply strategy which is working towards the ultimate goal of supplying premium Zespri kiwifruit for all 12 months of the year.
This season's Green sales volumes are expected to remain steady compared with last year, while SunGold kiwifruit sales are projected to increase by 25 per cent, reflecting improved growing conditions, increased yields and new production.
Kirton noted that this season's strong harvest was even more pleasing given the challenges faced by growers in both Europe and Asia last year. Kirton said that following a season review, Zespri initiated action plans across all Northern Hemisphere regions to address the issues of last season and focus on outcomes that would lift returns for growers. This included on-orchard and supply chain improvements and working closely with market teams to achieve the best outcome for growers.
"Last year was a particularly tough season for our growers in Europe and Asia, with sustained extreme heat and weather events impacting fruit size, yield and quality," said Kirton
"It is fantastic to see the orchards rebound this year, with growers producing some great quality fruit that we will be able to deliver to our customers, helping support improved returns for growers."
"Our Northern Hemisphere supply programme continues to grow and is expected to double in volume by 2030 providing strong returns to the local industry, and making positive contributions to our growing communities."