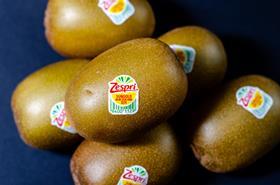 Zespri has reportedly set up a new project to investigate how its growers might produce zero-carbon kiwifruit.
According to grower association NZKGI, The New Zealand-based marketer wants a small number of growers of its trademarked SunGold variety to participate in a two-year trial starting in June 2022.
"This trial will help Zespri respond to growing market concern about climate change, find ways to reduce carbon emissions across the entire supply chain – orchard, post-harvest, shipping, in-market – and reach the industry's ambitious climate goal of being carbon-zero to retail by 2030," the association said.
During the trial, which will involve conventional not organic production methods, growers will record all carbon-emitting activities on their orchards and work with Zespri to reduce those emissions.
The trial will also incorporate market research, the association added.