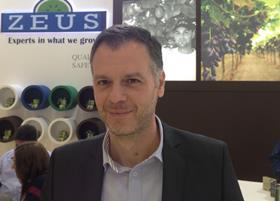 Last season was a challenging one for grape producers across Greece, with heavy rains arriving at a critical stage of the campaign for some companies, according to Antonis Ioannidis, sales manager at Zeus Kiwi.
"The weather conditions in the early days of October, including prolonged rain, affected both the volume and the quality," he says. "Crucially, our losses were minimised by all the efforts that have been made over previous years in persuading growers to protect their crops under plastic covers."
As such, Zeus Kiwi was able to fulfil the vast majority of its sales commitments to its customers. "We managed to maintain fruit quality and service throughout the main marketing window from October to December, but the impact on yields was clear. Volumes were 18 per cent down on our original estimate."
Following a couple of very successful seasons, the setback proved a real test of the company's and the growers' performance, says Ioannidis. "In the end, it builds strength, and solidifies the relationships we have with our growers and our customers," he says. "So now we can focus together on the future."
For Zeus Kiwi, the main focus is on protecting crops with plastic covers, as well as exploring new varieties. "This is where we think it is appropriate to invest," says Ioannidis. "Changes in climatic conditions are a concern for everyone whatever the crop. Especially this year, we've seen weather conditions that were unheard of – prolonged rains, short, but extreme rains – especially during September and October. You need to make sure your fruit is protected, and plastic covers work well. We apply the covers in early September and they stay until the end of picking."
Over the last decade, Crimson Seedless has been a big success for Zeus Kiwi, but that hasn't prevented the company from looking for the next variety to complement its offering.
"Right now the emphasis is on the white and red varieties, looking at how well they suit local conditions and the commercial window, as well as their cost-effectiveness for growers and overall sustainability," says Ioannidis. "For white grapes, we're looking at Sugar Crisp and Sweet Globe; for red we're interested in Jack Salute. These are the main ones we are selecting from the IFG varieties, and the first commercial volumes will be available this year. We are excited to see how they will perform. Feedback from our customers has been very promising."
According to Ioannidis, Zeus's grapes are currently doing well in the UK, where he says the company has adjusted well to new Brexit formalities, as well as in the Netherlands.
"We are also looking to expand on the German market," he adds. "We have managed to send to South Africa and Mauritius for the last couple of years, and the idea now is to start serving the markets in East Asia, where our varieties are also well suited. That is why we are investing in these varieties."