The berry group has supplied equivalent of 1 million healthy meals to those in need via FareShare
BerryWorld and its growers are celebrating having supplied over 1 million meals to vulnerable individuals through FareShare's food redistribution network since 2020.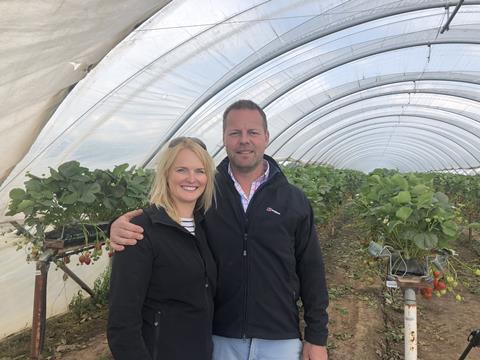 BerryWorld said it is committed to ensuring a sustainable and ethical supply chain and has supported FareShare, the UK's largest food redistribution charity, by diverting out-of-spec fresh berries for nearly three years.
Since the partnership began, this fruit has helped provide the equivalent of over 1 million healthy meals to those in need supported by FareShare's network of over 3,200 charities and community groups nationwide, BerryWorld said.
In 2022, BerryWorld was recognised as 'Leading Food Partner' by FareShare, a scheme which celebrates the businesses who have supplied FareShare over the last 12 months, demonstrating a commitment to tackle food waste.
Nottinghamshire-based grower Tasker Partnership has been one of the largest fruit contributors to FareShare in 2022, ensuring out-of-spec berries were not wasted and went instead to support those in need.
Stephen Tasker, partner of The Tasker Partnership, said: "Composting fruit that we have invested time and energy to grow, is soul destroying. Knowing 100% of all our fruit is eaten makes the effort worthwhile. In any surplus food situation, there are always vulnerable people who would gratefully benefit from it."
Pooja Shah, commercial manager of produce at FareShare, notes: "We want to say a huge thank you to BerryWorld and their growers for working with FareShare to redistribute the equivalent of one million meals to frontline charities. Their donations of surplus berries over the last few years have been a valuable lifeline for charities and community groups around the country, helping people access fresh fruit and vital nutrients during a time of unprecedented economic hardship. "
Last year, the partnership evolved to incorporate volunteering days for BerryWorld staff at FareShare so that employees could get a better understanding of their wider operations through supporting the teams at depots and kitchens.
Emma Henry, senior responsible sourcing manager at BerryWorld UK, said: "We are extremely proud to have reached this milestone with our growers . It's great to know that our out of spec fruit has benefited multiple charities and community groups. Also, having been able to directly support FareShare this year through volunteering has been great to raise our employees' awareness on the food waste issue and FareShare's great work."