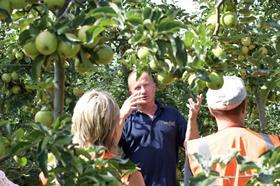 Developing a new fresh produce brand is no small task in the UK, where supermarkets' own labels continue to dominate. Beyond the obvious success stories of Pink Lady, Tenderstem, Florette, Albert Bartlett, Jazz and Jaffa, there are only a handful of other examples, but OrchardWorld is now making a bid to join that elite club.
Most people in the industry know the business as one of the UK's leading topfruit marketing desks. Founded by industry lynchpin Mark Culley back in 1989, OrchardWorld, together with sister company Norton Folgate, imports, markets and sells apples, pears, citrus and stonefruit from all over the world, offering 52-week supply to its diverse range of retail and foodservice customers.
These include the likes of Aldi, Lidl, Morrisons, Waitrose and Booths, where their fruit is sold under the supermarkets' own labels. But at other retailers such as Ocado, Amazon Fresh and Costco, OrchardWorld's own brand – once the reserve of the wholesale markets – is finding success.
"More than 10 years ago, we started supplying Costco with OrchardWorld-branded product and we've been on a bit of a journey since then," says commercial manager Sam Trebbick. "A couple of years back we sat down and rehashed the brand strategy, with the principal aim of becoming more customer-centric."
Now you can buy colourfully branded topfruit, stonefruit and citrus online at both Ocado and Amazon Fresh, featuring detailed descriptions on how the fruit is grown, how to store it at home, the fruit's likely origin, and in some cases its precise variety.
Consumerconnection
What OrchardWorld wants to do is reconnect consumers with where its fruit comes from. "It's not all about big shiny packhouses and loads of machinery," says Trebbick. "What we're trying to do is educate people in how and where we grow our fruit, and everything that goes into producing it. We're trying to get across that level of passion and care from the growers."
The principal means of communication, as ever these days, is social media, and Trebbick stresses that OrchardWorld has put "a lot of effort" into connecting with shoppers on Instagram and Facebook in the past two years. The company regularly shares fruit-based recipes on its pages – among them a Royal Gala apple buddha bowl and an orange, almond, pecan and dark chocolate cake – and next year some of these will be pulled together and published in a recipe book to inspire customers to buy more fruit.
Another important element of the supplier's social media strategy is its consumer competitions, and this year – for the first time – OrchardWorld and Norton Folgate have offered the public the chance to win tours of its apple and cherry orchards, during both blossom and harvest. "The competitions have been really successful, and we've had people phoning up to ask if they can do one even though they didn't win," says OrchardWorld's brand consultant Barrie Stjon Jones.
At the company's recent apple harvest tour of Boxford Suffolk Farms near Colchester – a forward-thinking and well-established producer of apples, berries, stonefruit, rhubarb and asparagus – experienced farm director Robert England imparted some of his vast horticultural expertise to the competition winners.
Among other things, he taught the visitors about the farm's orchard husbandry (why it is important for apple trees to be thinned to direct as much energy as possible to the fruit); the main varieties it grows (namely Bramley, Early Windsor, Cox, Gala, Braeburn, Fuji and Jonagold); and how the Copella apple juice brand was born – a timely lesson in making the best of a difficult situation.
Out of adversity…
The Copella business, which has become a household name in premium British apple juice, was started by Boxford founder Devora Peake in 1972 as a direct result of Britain joining the EU. "Suddenly there were all sorts of new rules to follow," says England. "You could no longer sell apples that were under 50mm in size, which meant about a third of Devora's crop was going to be unsalable, so she started pressing apple juice to continue making use of her crop."
The message, he says, is that in any challenging situation there are opportunities. And now, almost 50 years after Copella was established, Brexit has happened. "Yes, there are challenges, but I suspect there will be lots of opportunities as well," says England with optimism.
One difficulty that Brexit has already contributed to, of course, is labour shortages. And Boxford's farm director emphasises that the business has made a big effort to encourage seasonal workers to return season after season by ensuring working conditions, living conditions and pay are attractive.
"We have enough pickers at the moment," he says, "but my real worry is about next year and the year after. I think Covid has given us some breathing space because of the uncertainty and the fact that the rest of the economy wasn't all open. By comparison, fruit picking was a safe bet for people's employment."
Getting through to government
The challenge is to get voters, and therefore the government, to accept the difference between immigration and seasonal labour, so that anti-immigration rhetoric doesn't impede growers' ability to hire enough staff.
"Seasonal workers come, they're housed on farms, they pay taxes, tend not to use the services (such as health or education), and they go home at the end of the year," says England. "At the moment I don't think the government's listening, and until there are pictures of apples rotting on trees, they think that everything's alright and everyone's just whinging."
Part of the problem, it seems, is that Brexit and Covid hit at the same time, which has arguably allowed the government to hide behind the pandemic as a catch-all excuse for some of the issues and shortages that numerous supply chains now face, and not only in fresh produce. Those in the fruit and veg sector are well aware that the ongoing HGV driver shortage was not caused by Covid alone.
This is certainly not an easy time for apple growers, but it is one of great opportunity, and a business as well established as Boxford Suffolk Farms is well positioned to benefit from rising demand for British apples. OrchardWorld's efforts to connect with shoppers through a consumer brand will only help to add value to their offer at a time of intensifying cost pressures.
Sustainability first
Boxford Suffolk Farms boasts an impressive array of environmental measures, including rooftop solar panels, biomass boilers for heating and a three-tank anaerobic digestion plant that digests apple pomace with maize to generate up to 30 mW of electricity a day. This is twice the amount of energy used by the entire Boxford business, which comprises the farm, its Peake Fruit packhouse and a neighbouring hotel and golf course. The remainder is sold to the Copella factory, and a small amount goes to the national grid.
"The AD plant has helped us rethink the whole philosophy and structure of how we operate," enthuses Boxford's farm director Robert England. "It's taking waste fruit from the orchards and packhouse; it's giving us organic fertiliser to put back on the land; we're using heat to dry logs that then get burnt in the biomass to grow strawberries; and the compost we grow the strawberries in goes back on the apple orchards to grow more apples. It becomes completely circular."