Martin Evans of Freshgro tells audience about his group's route to producing carbon-neutral carrots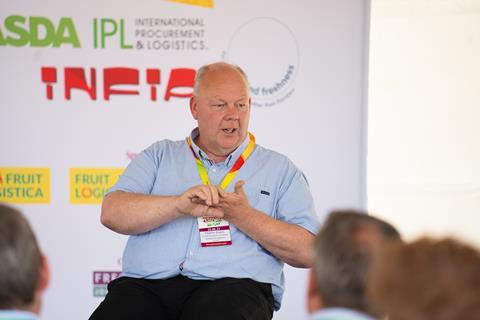 Almost one year since Nottinghamshire vegetable cooperative Freshgrowers (Freshgro) launched the world's first carbon-neutral carrots, the group's managing director Martin Evans came to tell Festival of Fresh 2023 how they did it.
Working with Campbell-Gibbons Consulting, Intellync-Sustain and Carbon Neutral Britain, the group of 10 growers used a product life-cycle analysis approach to calculate the carbon footprint of its Chantenay carrot production from field to packhouse, he explained.
The data revealed "an impressively low" level of greenhouse gas emissions (GHGs) from the production and harvesting of the 2021/22 Chantenay crop, at just under 363 tonnes of carbon equivalent (CO2e) for 12,500 tonnes of carrots. That's a carbon footprint of just 0.03 grams of CO2e per kilogram of carrots.
The largest source of GHG emissions from Chantenay production overall was the fuel used in field operations (77 per cent), with the remaining emissions produced by fertiliser, crop protection products and the incorporation of crop residues into the soil.
"A lot of the work to achieve carbon-neutrality was integral to what we did already. What I wanted was a measurement. And it showed that our carbon footprint was impressively low," he told the Festival of Fresh audience last week (21 June).
Evans described "four pillars of work" to achieve carbon-neutral status in July 2022, which included measuring carbon inputs and outputs, measuring the farm's biodiversity and carbon sequestering.
"What I hadn't appreciated was that we have really good biodiversity on our farm," he said. "Growing carrots in and around the Sherwood Forest landscape character area, we have always taken a pride in soil conservation, provision of habitat for farmland birds and insects, and sympathetic hedgerow management. All of our farms have participated heartily in agri-environment schemes since their inception too. But now, with our carbon neutral status and new sustainability plan, we are seriously upping our game to deliver even more for the environment from the production of our carrots."
Evans advised growers to use efficient tractors appropriate to the size of their land, and to make sure they sell everything they produce in order to cut their carbon footprint.
"Everyone should be working towards carbon neutrality," he said. "It should be integral to production. More of us should be doing it."
In terms of marketing the carbon-neutrality of the carrots, Evans said FreshGro had experienced "tremendous interest" from both retail and foodservice sectors, although retailers are unable to include the carbon-neutral badge on packs sold in-store.
Freshgrowers (often referred to as Freshgro) is a co-operative formed in June 1998 by 10 farmers. The group brought back Chantenay carrot production to the UK and is now the world's leading supplier, supplying over 90 per cent of the UK Chantenay market.
Freshgro has a farming base of over 20,000 acres, and grows and markets both conventional and organic vegetables, including Piccolo parsnips, asparagus and other root crops. It has nearly two acres of factory space, serving all the country's retailers.