Lancaster University professor Mike Berners-Lee urges acceleration of agroecological and integrated farming practices at LEAF Conference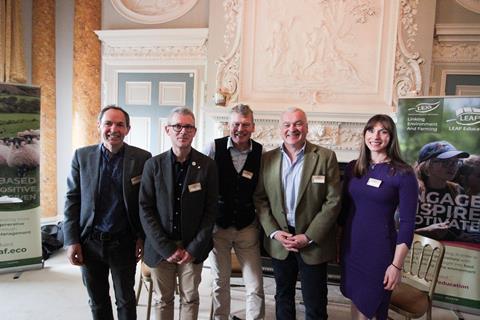 Professor Mike Berners-Lee, a leading authority on carbon management and the environment, used the inaugural LEAF Lecture to call for the farming industry to undergo urgent and systemic change to address the climate crisis.
Delivering the lecture on 3 February at LEAF's annual conference, Professor Berners-Lee urged the industry to accelerate the development of more agroecological and integrated farming practices.
To make this happen, he called for farmers to be adequately incentivised to make radical changes to their practices, attitudes, and mindset.
"We have all the tools to ensure the survival of mankind and to further reduce carbon emissions over the next few decades, but we need as much new thinking as we can," he said.
"Shifting to more climate positive farming solutions presents a huge intellectual challenge – deciding what to grow and what is the right thing to do on any given piece of land."
LEAF chairman Philip Wynn added: "With our farming and food systems facing unprecedented challenges, now is the time to rethink our whole approach. We need to understand much more about the science of our soil, develop ever increasingly circular systems, reduce waste, and develop our overall resilience.
"People, planet, and profit should be at the heart of our future thinking. With the management of land now becoming hugely knowledge intense the importance of LEAF in helping farmers formulate new approaches has never been greater. We all need to take positive actions for climate, nature, economy, and society."
Professor Mike Berners-Lee agreed, saying: "Now is the time for doing and the industry must reinvent itself at super-fast speed."
Concluding the LEAF Lecture, Professor Berners-Lee set out five key areas for change:
Reduce meat and dairy consumption
Push forward agroecological science and practice
Explore ways to deliver more nutrition without photosynthesis
Increase the proportion of all food that is consumed by humans
Offer the right incentives for farmers and researchers
The conference was chaired by freelance journalist and BBC Countryfile presenter and author, Tom Heap. And other speakers explored the three key strands of LEAF's 10-year strategy of Health, Diversity and Enrichment.
Taking up the theme of diversity, Ed Ikin, director of Wakehurst, Royal Botanic Gardens, Kew challenged the view that net-zero and ecological diversity are separate.
"We have to understand the complete picture; to pursue the truth around where carbon is and how it can be sequestered," he said. "Better measurements, searching questions underpinned by a rigorous, evidence-based approach will be key."
Meanwhile, founder of sustainability consultancy Seeds to Thrive, Caroline Mason, explored the role of farmers and retailers in enriching the natural environment and wider society.
"Nature needs our voice" she said. "Mindsets are shifting with climate change and biodiversity is now top of the political agenda. We must work together to lift and raise the bar, to get curious about new ways of working. The retail chain has a huge role to play in keeping nature front of centre."
LEAF's 10 -year-strategy is available here.