The berry grower-marketer has launched its branded paper berry packs in Asda and Booths stores in the UK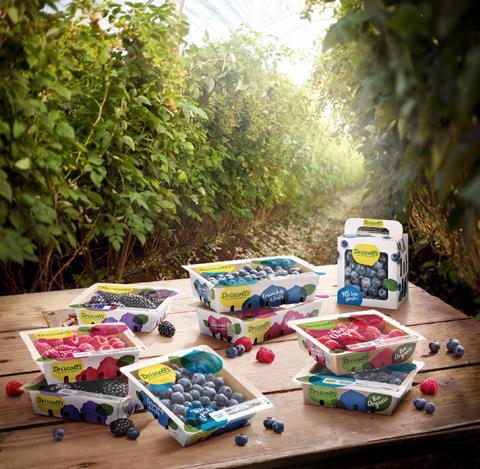 Driscoll's, a global market leader for fresh strawberries, blueberries, raspberries and blackberries, has expanded the launch of its branded paper pack offer into a major UK supermarket for the first time.
This launch will also see the brand feature British-grown berries in the paper pack range and the introduction of larger paper pack formats.
Driscoll's branded berries, packed in paper packs, are now available in Asda stores across south-east England and in Booths' stores, expanding its availability in the UK for consumers from its current listing at Wholefoods.
Driscoll's, who launched paper pack in the UK in Wholefoods in 2021, is one of the first brands to offer berries sold in a paper packaging format. This launch not only expands the distribution of the Driscoll's paper pack into more retailers, but it is also the first time Driscoll's will feature British-grown berries in the paper pack.
A new larger 250g and 300g paper pack format will be available for its raspberries, blackberries, and blueberries. This expansion aims to help retailers and consumers reduce their reliance on plastic, offering consumers the chance to purchase berries in a paper pack format that they can recycle.
Driscoll's acquired Berry Gardens Ltd last autumn and the launch marks the ambition to grow its business in the UK, providing year-round berry programme for the UK retail, including a branded proposition.
Nick Allen, general manager UK, Driscoll's said: "We are delighted to expand our availability for UK shoppers. Our new paper pack has already seen an overwhelmingly positive response, so we hope to continue to delight customers as they enjoy our delicious berries.
"Shoppers across Europe have been buying their berries in paper packs for a few years now and I have no doubt that British shoppers will respond with the same enthusiasm. Each pack uses much less plastic than a standard punnet which is obviously a very positive reduction for the retailer, the consumer, and the planet."
Wyard Stomp, managing director, Driscoll's of Europe, Middle East, and Africa (EMEA) says "This is an important step for us. The British berry market is already worth more than £1.7bn annually. We believe we can help retailers continue to grow through their own retailer brands and through the launch of the Driscoll's brand in the UK.
"As a consumer-driven brand, our goal is to deliver solutions that exceed expectations and with our paper packs, we are offering a sustainable option, whilst not hindering the flavour and quality of the berries."
The new paper pack provides a premium look and feel for on-shelf differentiation with a transparent top film allowing consumers to check product quality before purchase, he said.
Additionally, the packaging has been tested extensively from field to fork to ensure it preserves the quality of the berries.
The new packaging is made from FSC-certified paper, meaning paper made from well-managed and/or recycled sources. With the change to FSC-certified paper instead of plastic, the amount of plastic in the packaging is significantly reduced.
Allen added: "Consumers are explicit in their desire to reduce single-use plastic wherever they can, particularly when it comes to fresh food. Only Driscoll's offers paper packs at a significant scale within the berry aisle and, as retailers also have sustainability targets too, it seems like a win-win solution."