New facility is one of Europe's largest with capacity to produce up to 20 million plants a year for UK retail and restaurant customers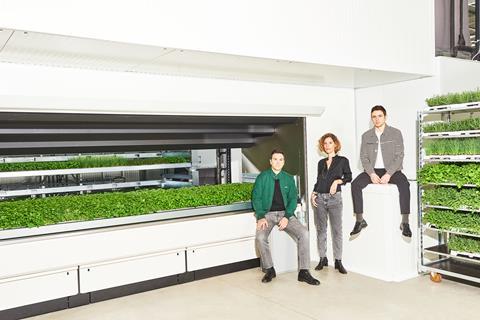 Infarm has opened one of Europe's largest vertical farms in Bedford ­– the Berlin-based company's first high-capacity Growing Centre in the UK.
The facility measures 10,000 sqm and can house up to 40 Infarm cloud-connected farming units, each standing 10 metres high with capacity to grow more than 500,000 plants per year. This equates to up to 20 million plants in total annually.
Each Growing Centre uses 95 per cent less water and land than traditional agricultural methods and saves thousands of food miles, Infarm said. The location of the new facility means that fully equipped, it can serve 90 per cent of the country's population within a four-hour drive.
The facility will also implement rainwater harvesting, using the 2.5 million litres of water captured by this technique each year for conditioning the plants.
In the UK, Infarm's herbs and leafy greens are on sale at Whole Foods Market, Selfridges, Marks & Spencer, Fortnum & Mason, and Budgens, as well as online retailer Getir.
In addition, Infarm's fresh produce can be found at restaurants in London, including Michelin Star eateries Pied a Terre, Sabor and Hide.
The new Growing Centre in Bedford will be part of Infarm's expanding global network of vertical farms, each of which is connected to a central 'farming brain' which gathers data constantly to improve plant yield, taste, and nutritional value, while further reducing the use of natural resources. By the end of 2030, Infarm plans to expand to 20 countries.
Opening celebrations at the new facility on 27 June included addresses from Defra minister Jo Churchill, and Bedford MP Mohammad Yasin, with both recognising the importance of boosting domestic food production using sustainable technologies.
Erez Galonska, CEO and co-founder of Infarm, said: "The Infarm Growing Centre in Bedford enables us to increase the amount of fresh produce grown locally in the UK significantly. Fully equipped, we will be able to deliver up to 20 million locally and freshly produced plants to our UK partners every year."
Churchill added: "We want to be world leaders when it comes to innovation – our Food Strategy is committed to boost food production in sectors including horticulture, and we are spending £270 million on unlocking innovation in agriculture.
"With each unit having the potential to grow over 500,000 plants per year, Infarm is a great example of innovation being used to enhance productivity – and I am delighted to support the opening of this facility today."