Discounter incentivises fresh fruit and vegetable purchases with cash prize draw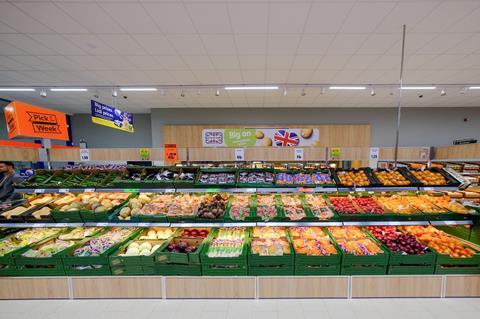 Lidl is encouraging shoppers to eat more fruit and vegetables by offering them the chance to win £10,000 if they spend £20 on fresh produce in February.
To enter the draw customers must complete a digital 'fruit & veg stamp card' in the Lidl Plus loyalty app.
Every £5 spent on fresh produce from 2 February to 1 March earns one stamp, and four stamps are needed to complete a card.
Each completed card offers customers one entry in the prize draw, and there is no limit to how many stamp cards each customer can enter.
The top prize is £10,000 cash, but entrants can also win one of 100,000 coupons for more fruit and veg from Lidl.
Alternatively, coupon winners can convert each coupon to a £1 donation to the discounter's food redistribution partner Neighbourly.
The promotion only applies to fresh fruit and vegetables, including prepared fresh produce. No stamps are offered for buying frozen or tinned produce.
To enter, shoppers must opt in on the Lidl Plus app and scan the app on their phone when they check out.
The initiative comes after a pledge from Lidl GB in 2021 to increase sales of "healthy and healthier" products to at least 85 per cent of total sales (by volume) by 2025. The move also included a target to boost fruit and veg sales by 35 per cent by 2026.