Leading Israeli date cooperative develops Medjool three-pack that provides "perfect healthy alternative" to processed snacks
A new sweet snack offering three Medjool dates inside one pack has been launched in the UK, offering consumers a healthy, convenient snacking solution.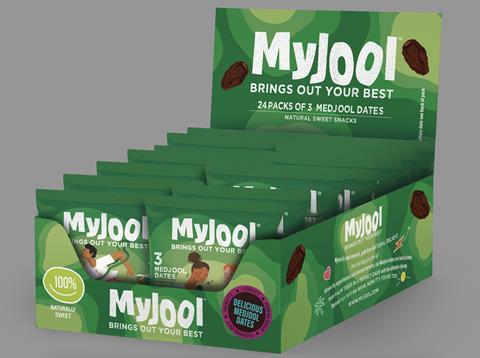 The MyJool brand is launching its first-phase marketing campaign in Waitrose with a nationwide listing, aiming to satisfy those seeking a sweet, natural snack.
With revenue in the UK snack food market expected to grow annually by 2.92 per cent (CAGR 2023-2028) and an anticipated volume growth of 0.7 per cent in 2024 , MyJool said it was confident that the launch of its fat-free and naturally nutritious snack pack of dates will "inject new life" into the category and help it grab a slice of the market, plus fulfil demand from consumers.
"MyJool wants to empower consumers to be able to make healthier and simpler snacking choices, whether they're heading to the gym, feeling low on energy, or simply craving something sweet and guilt-free," said Tal Akerman, marketing director of MyJool.
"We're the leading expert in the Medjool date variety, and although the market potential is big, there isn't a handy and quick way to consume this delicious superfruit on the go in the UK, something we're hoping to change with our new brand.
"We're very excited to be able to bring MyJool to millions of UK consumers looking for a healthier snack option, through our nationwide Waitrose listing," he outlined. "The snack pack will also soon be available in coffee chains, fitness clubs, hotel etc."
The European date market is estimated to be worth €0.5bn, whilst chocolate sales are estimated at €42bn.
The average person in the UK consumes 0.3kg dates per person and MyJool said its mission was to extract the date category from a traditional product niche to an ultimate sweet natural snack for diversified audiences.
The new MyJool on-the-go packs are available to buy in Waitrose stores, initially at a promotional price of £0.80 for eight weeks and then £1 thereafter.