Welsh farming union wants governments to rethink funding to support farmers' food and environment ambitions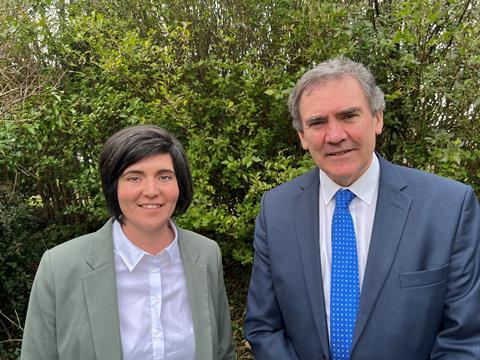 NFU Cymru is calling on governments to provide long-term funding arrangements that accurately reflect the modern-day cost to Welsh farmers of producing food, enhancing the environment and combatting climate change.
That will be the key message from the farming union's President Aled Jones when he opens the third NFU Cymru/Wynnstay Sustainable Farming Conference, taking place on-farm on the Llŷn Peninsula, later today (28 September).
During his speech, Jones will highlight the real terms deficit between farming support settlements and rising inflation over the last decade, and the destabilising impact this is having on farm business viability.
He will commend Welsh Government for its commitment to maintaining the Basic Payment Scheme (BPS) budget for 2023, and will stress the absolute importance of maintaining the BPS budget for 2024 at current levels.
He will warn that in the context of agri-inflation having risen 40 per cent since 2020, future settlements that do not recognise the industry's escalating costs and result in a real terms loss will challenge farming's ability to meet its food, environment and climate ambitions.
Speaking to the conference audience gathered at Bodwi farm, Mynytho, the NFU Cymru President will say: "The BPS is absolutely imperative, not only for Welsh farm businesses, but for the vitality of our rural communities, the wider supply chain and for our environment. Farmers can only deliver for the environment from a position of farm business viability.
"The entire rural affairs budget, including agriculture, currently makes up just 2 per cent of Welsh Government spending. In 2022, farming delivered a gross output of £2.1 billion pounds. We can say confidently, therefore, there is a nine to one return for every BPS pound invested in Welsh farming. By any measure farming delivers excellent value for money.
"It is also important to recognise budgets for agriculture remain at levels established via the Common Agricultural Policy (CAP) a decade or so ago. The Bank of England inflation calculator clearly shows the BPS budget would need to increase by £79 million pounds - from £238m to £317m - just to stand still with inflation over the past decade. Replacement CAP funds - Pillar 1 Direct Payments and Pillar 2 - need to increase to half a billion just to keep pace.
"In this context, 'not a penny less' funding for farming is not a sustainable position. NFU Cymru and Welsh Government have significant ambitions for farming and the role we can play delivering climate-friendly food production whilst enhancing our environment. But with escalating costs, tighter margins and lower returns from the marketplace, more needs to be done to understand the cost of delivering on those ambitions.
"Our current and future governments in both Cardiff Bay and Westminster need to deliver on a long-term funding arrangement that properly reflects the funding required to deliver on our food, environment and climate ambitions."
Jones will also use his speech to reiterate the union's position on Welsh Government's proposals for the new Sustainable Farming Scheme. "Of course, the delivery of Welsh Government's nature and climate objectives is dependent not only on funding, but also maintaining and enhancing levels of on-farm action. From 2025 we expect that to mean participation in the proposed Sustainable Farming Scheme," he will say.
"NFU Cymru remains supportive of the overarching structure of the proposed Sustainable Farming Scheme arranged around universal, optional and collaborative tiers. We strongly support the principle of farmers receiving a baseline sustainability payment in return for carrying out a set of universal actions. However, universal actions must work for all farmers – that's all sectors, locations, land tenures and types.
"It will come as no surprise that NFU Cymru is extremely concerned that the very real issues we have highlighted relating to Welsh Government's 10 per cent tree cover have not yet been addressed. In our response to the SFS outline proposals last year, NFU Cymru highlighted the broad range of issues associated with the 10 per cent tree cover and 10 per cent habitat targets – some are regulatory, some are environmental, some are economic, some are agronomic – but all need to be understood and addressed within the scheme design. We remain in no doubt that Welsh Government's 10 per cent tree cover targets present a very real barrier to scheme participation for many farmers in Wales.
"Participation is going to be absolutely central to the delivery of Welsh Government's objectives and we want to be clear, as farmers, we are prepared to plant hedges, shelterbelts, streamside corridors and field corners on areas we identify as appropriate for planting.
"We can integrate more trees into farming systems – but we will not take our productive land out of food production for trees. We need a solution that recognises this and we stand ready to work with government on this issue so that we have a scheme that works for all farmers in Wales."
Jones will end his speech by saying: "As we will see and hear at today's conference - there is much to celebrate in terms of farming's commitment to the environment. I am immensely proud of the unparalleled contribution Welsh agriculture makes to our rural communities, economy, environment, landscape, as well as to our national identity, our language and our culture.
"Our sector underpins the £8billion Welsh food and drink industry, which is Wales' largest employer with around 230,000 people linked to roles in the sector. We have the resources to be world leaders in climate friendly food production, contributing to domestic and global food security. Welsh Government must deliver the budgetary and policy levers needed to ensure that we meet this ambition and we are committed to continuing these discussions to make our goal a reality."