From zero to hero: fresh parsnips enjoy 2023 sales resurgence, Kantar figures show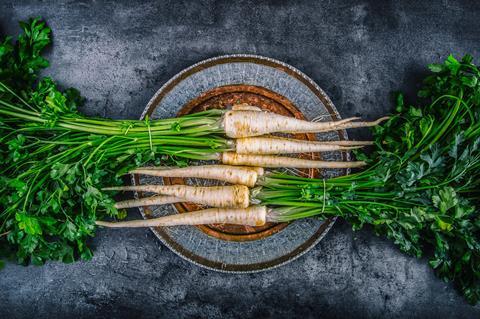 Such is the rollercoaster world of fresh produce that UK parsnips have gone from earning the Big 50 Products 2022 title of 'biggest faller' to being one of this year's star risers – all in the space of 12 months.
Kantar 2023 data shows UK parsnip sales are up by a whopping 20.5 per cent in value to £43.6m over the prior year, off the back of a slight dip (-1.9 per cent) in volume. Compare this to the hefty 23.9 per cent drop in value and 16.8 per centfall in volume sales reported in 2022.
The reason for this pendulum swing? "Simply, huge inflationary costs of well over 10 per cent," says grower Guy Poskitt of MH Poskitt. "The main ones being fertiliser up 30-50 per cent, energy and agrichemicals up 15-20 per cent, and plant and machinery costs up 30 per cent."
Inflated parsnip prices at retail have visibly not dented sales at home, but have negatively impacted exports abroad, says Poskitt. Add Brexit border bureaucracy and delays into the mix, and you have a challenging global trading picture.
On the production side, the loss of agrochemicals continues to hamper growers, he adds, making it increasingly difficult to produce high-yielding crops. Recent weather patterns have created further challenges. Last summer's severe drought and high temperatures caused parsnips, and carrots, to "shut down and refuse to grow", says Poskitt. "Also water supplies started to run out, all resulting in poor yields."
In terms of innovation coming into the sector, Poskitt says significant automation is coming forward both in field and packhouses. "But with a big price ticket and borrowing money now expensive, we need longer-term [retail] deals with a profitable price to justify the investment.
"It is a challenging picture in the parsnip sector," he adds. "Inflation is still hitting us hard and the global markets on power and fertiliser etc are very volatile."
The FPJ Big 50 Products 2023, the essential guide to the UK's 50 best-selling fruit and vegetable products over the last year, is out soon.