Puffin's Blas Y Tir branded Welsh leeks will now carry the UK GI logo giving consumers a guarantee of their quality and provenance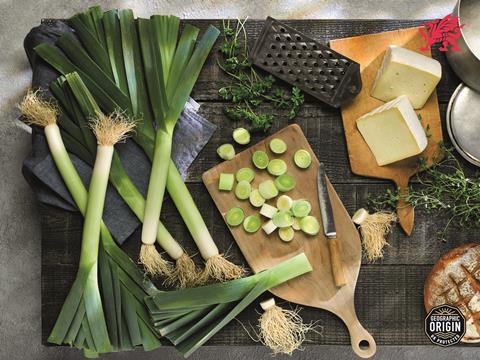 Puffin Produce has secured UK Geographical Indication (GI) status for Wales' national vegetable and emblem, the Welsh leek.
Puffin already holds a GI for its Pembrokeshire Earlies, which sit alongside 19 other Welsh GI products including Welsh lamb, Welsh beef and Anglesey sea salt.
GI status demonstrates each product's unique and intrinsic link to Wales and Welsh landscapes and waters.
The UK GI scheme was established at the beginning of 2021, following the UK's withdrawal from the EU, and ensures certain food and drink products can continue to receive legal protection against imitation and misuse.
The UK GI schemes protect registered product names when they are sold in Britain (England, Scotland and Wales), whereas the EU GI schemes protect registered products names when they are sold in Northern Ireland and the EU.
All product names that were protected in the EU on 31 December 2020 following successful applications to the EU GI schemes are protected under both the UK and EU GI schemes.
Puffin's Blas Y Tir branded Welsh leeks will now carry the UK GI logo giving consumers a guarantee of their quality and provenance.
Welsh Leeks are grown and harvested in Wales using hybrid varieties which are best suited to Welsh growing conditions. The characteristics recognised for Welsh leeks include the longer distinctive dark green flag, comprising more than 40% of the overall size of the leek.
Often grown in coastal areas of Wales, Welsh leeks have a long season, allowing for slower maturation and more time for the distinctive peppery flavour and buttery aroma to fully develop.
Huw Thomas, CEO of Puffin Produce, said: "The leek is an iconic emblem of Wales. We are incredibly proud to be able to grow Welsh leeks and the GI status is hugely important to promote the quality and heritage behind this majestic crop.
"As we've seen with the success of Pembrokeshire Earlies, protected geographical certification can be an important boost for growers' businesses and a clear badge for consumers who are increasingly seeking out products with a clear and unique provenance."
Blas Y Tir produce is all grown by Welsh farmers and packed by Puffin in Pembrokeshire. As well as Welsh leeks and Pembrokeshire Earlies the range includes cauliflowers, potatoes, broccoli, cabbages and daffodils.
There are now 92 UK-produced GI products: 81 agricultural and food products, six wines, and five spirit drinks.
Blas Y Tir Welsh Leeks are available at Asda, Morrisons, Co-op, Waitrose and Spar in Wales and retail between £1.50 and £1.80 RRP.