British importer Growers Direct marks start of new UK-Ukraine apple deal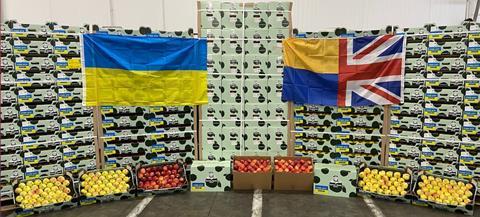 UK fruit importer Growers Direct Ltd is celebrating the safe arrival of its first ever consignment of Ukraine apples yesterday (17 November).
The 24 tonnes of fruit trucked from the Nemyriv district of Ukraine, 250km south-west of Kiev, by grower-shipper Volodymyr Glus were subject to one month's delay caused by bombings and the fall-out from the war in Ukraine.
Yet Growers Direct managing director Patrick Broadhurst was on hand to receive the pallets, which he described as "looking very nice", when they finally arrived yesterday at the firm's storage and distribution warehouse in Staplehurst, Kent.
He told FPJ how he had contacted Glus last July after reading an article in the produce press detailing Glus' struggle to export apples since Russia's invasion of Ukraine and his ambition of supplying the UK market.
"We have been in contact ever since," said Broadhurst. "The idea is to help Ukraine by doing business with them.
"It has been quite surreal," he added. "We would be talking via Teams, and Volodymyr would suddenly have to excuse himself as the bombing got closer to his Kiev office. It can only be described as like the Blitz."
Growers Direct, which is based in Spalding, has initially planned to receive 24 tonnes of Glus' apples – specifically Golden Delicious, Blush Delicious and Royal Gala varieties – per week until the end of the Ukraine apple season in May 2023. But Broadhurst anticipates the venture will continue into the long-term.
"The majority of this first consignment was pre-sold to our valued wholesale customers and we are seeing repeating orders, particularly for the Blush Golden [Delicious]," Broadhurst said.
Commenting on the arrival of his apples in the UK yesterday, Glus told FPJ: "I am very happy to discover a partner in the UK that will assist me in introducing Ukrainian apples to the UK market in these difficult times for my country. From the very first conversation with Growers Direct, I felt great empathy for the difficulties we were dealing with and I did feel willingness to support our business.
"Having a reliable partner in the UK is very important to us as we are experiencing serious turbulence with local sales, while sea logistics to our traditional export markets is rather challenging," he added. "I look forward to having many years ahead of a win-win partnership with Growers Direct."
Glus said he felt very confident that UK consumers would appreciate the taste and quality of Ukraine apples. "I am very thankful to the Growers Direct team for their trust in my company," he said. "Taking this opportunity I would also like to thank for the enormous support we have received from the people of UK in the darkest hours for my fellow citizens."
Glus continued to outline some of the colossal challenges that his business, Green Farm, has faced since Russia's invasion of Ukraine, including the blockage of Ukraine's Black Sea ports which cut off his ability to export to long-term clients in the Middle East and South-east Asia, and not least the constant threat to life from Russian bombs.
"Our orchard is located in a relatively safe area, however with the recent missile terror it is hard to feel safe anywhere," he said. "Russian missiles were spotted many times above our orchard, one being shot down just some miles away from our facilities. During air raid sirens extra safety measures need to be taken and evacuation to safe areas has to take place. Sometimes it happens a few times a day.
"We also lack some team members as they have joined the Armed Forces of Ukraine and are fighting for our freedom. After most recent attacks on critical infrastructure we start having problems with electricity supplies, internet and phone communications," Glus continued.
"You may imagine what it takes to carry on business operations under these conditions. Being the owner of this business I work in a "fire fighter" mode running constant crisis management. However, it is most important to "keep walking" no matter what as every step takes us closer to the victory."