YouGov survey confirms that 4 per cent of Brits said they took part in Veganuary 2023 last January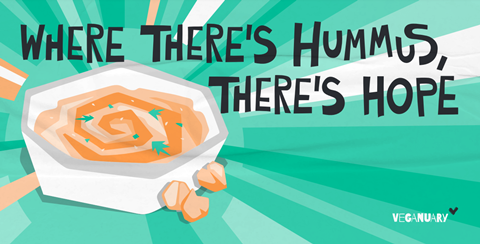 Veganuary, the global organisation encouraging people to try vegan in January and beyond, today (7 March) released its 2023 campaign review revealing a record-breaking global impact with higher participation in several countries, including the UK.
Some 700,000 people from nearly every country in the world officially signed up to the 2023 campaign – the organisation's tenth, and YouGov surveys in several countries found participation was much higher than official sign-ups, with 4 per cent of UK respondents, 9 per cent in Germany, 7 per cent in the US, 5 per cent in Chile and 7 per cent in Argentina reported to have participated in Veganuary for at least part of the month of January.
The organisation revealed that 1,610 new vegan products and menu options were launched globally during January – the largest number yet, and nearly 100 UK organisations took part in the Workplace Challenge, including the Ministry of Defence Veg Network, Suffolk County Council, Mars Food Europe, NHS Supply Chain, Greater London Authority, BAFTA, Odeon Cinemas and Adept Carehomes (staff and residents).
More than 6,800 international media stories featured Veganuary, including TV reports in South Korea, Taiwan and on Sky Arabia, as well as print media in China, Japan and Ghana; and Veganuary's social media channels had a combined reach of 155 million.
In the UK, Veganuary adverts, promotions, media stories and events were ubiquitous in January, and more UK brands and businesses than ever before got behind the campaign, organisers said.
Commenting on the impact of Veganuary's 2023 campaign, Ria Rehberg, Veganuary's CEO, said: "The world is facing an ever-increasing number of global challenges, but looking back at the past 12 months, I believe it has also been a year of progress, hope and proof that, as Victor Hugo said, there is nothing more powerful than an idea whose time has come. Veganism is the idea of our time; it offers a solution to many of the world's biggest problems and has become a popular choice all around the planet.
"Veganuary celebrated its 10th campaign this year. It all started in 2013 with an idea at a kitchen table in York, UK, and has become a powerful movement that inspires millions each year to change the way we eat to protect animals, the planet and our future," she continued.
"There are now dedicated Veganuary campaigns in 14 countries across Europe, Asia, Africa, North and South America, and Australia. We've counted people signing up to try vegan with us from every country in the world (except Vatican City and North Korea). Never have we seen such overwhelming media coverage around the globe – from TV reports about Veganuary in Canada, Chile, South Korea, Brazil and Taiwan to dozens of media stories in Greece, China, Japan and even Ghana!
"This 2023 campaign, more people and businesses than ever participated in Veganuary. We've encouraged vegan product launches and marketing activations by thousands of food businesses around the world. Highlights include Mellow Mushroom in the US rolling out a new vegan menu; Subway Argentina and Dunkin in Chile promoting plant-based eating through their Veganuary activations; the British Army training their chef instructors in plant-based cooking; the German national train services adding vegan menus to all their on-board restaurants; and Aldi UK launching their biggest-ever range of vegan products!" said Rehberg.
"It is thanks to every single person who shared our vision, and supported us in any way, that Veganuary 2023 was our biggest and most international campaign yet. Together, we are creating a more just and compassionate world for all."