The organic veg box company is using Webfleet's management solution to maximise the efficiency of its electric vans
UK organic supplier Riverford is making use of Webfleet's EV fleet management solution to help delivery drivers of its vegetable boxes "overcome EV range anxiety, manage routes better and navigate efficiently to charge points".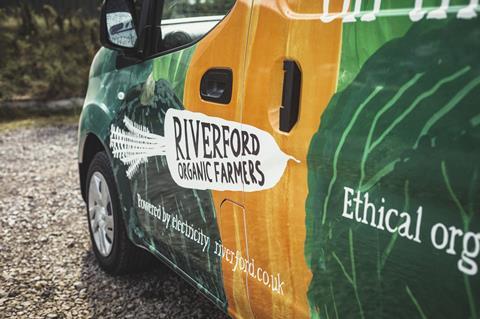 The software enables Riverford to track vehicle location, battery health, remaining driving range and real-time energy consumption on its 65 electric delivery vans, directing drivers to the closest charging location when low on fuel.
Nearly a third of Riverford's fleet is now electrified, and the company said it was "on track to become a 100 per cent final mile electric delivery fleet by 2025".
"Riverford has always had sustainability at its heart, and the health of people and planet is a top priority for us," said James Welton, fleet manager at Riverford. "With Webfleet, we're putting this into action by helping to take the stress out of anticipating charging needs for our drivers."
Webfleet's integral OptiDrive functionality provides drivers with direct feedback on speed, steering and braking before, during and after each trip, helping them to drive more safely and efficiently.
"We find OptiDrive really useful as it gives us a clearly illustrated breakdown of our drivers' performance, so we can offer specific coaching and support where it is needed," Welton said.
The integrated Mantis live camera system gives Riverford access to video footage to be able to constantly review and improve safety for its drivers.
In addition, Webfleet's open integration capabilities means the system is future-proofed. "Looking ahead, it's great to know that the system allows for integration of other solutions too, without us having to worry about switching to a new platform," Welton added.
"We've built a bespoke infrastructure to help Riverford raise the bar in fleet safety, efficiency and compliance," said Andy Butt, installation manager at In Car Technology. "The solution is already delivering on these business objectives in spades."
Beverley Wise, Webfleet regional director for Bridgestone Mobility Solutions, added: "Innovation and a progressive mindset are vital for successful transport decarbonisation. Riverford have grasped the baton, bringing us another strong example of how data-driven mobility solutions can help us pivot towards a more sustainable future."