US grower-packer-marketer to showcase refreshed apple brand Global Produce & Floral Show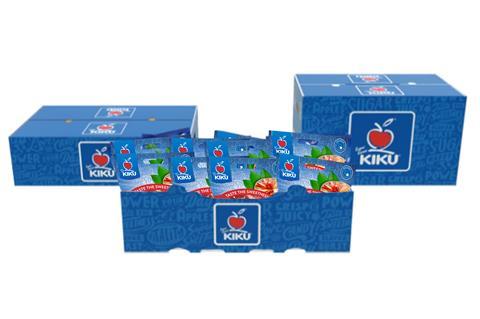 CMI Orchards has announced a new, refreshed look for its Kiku apple brand. The updated look will be implemented across all boxes and bags, with artwork delivering emphasis on Kiku's unique flavour attributes and sweetness.
Vice President of marketing Rochelle Bohm, said the design paid homage not only to the apple's origin, but all the things that make it such an extraordinary apple.
"There's a lot of nods to the details that make Kiku a standout apple," said Bohm.
"From the mountain illustration representing the Italian Alps where the apple was propagated—as well as the Enchantments of the Wenatchee Valley—to the chrysanthemum blossoms representing the Japanese meaning of the apple's name, as well as bees for the importance they play in pollinating our apple trees."
Bohm said several highlighted words and phrases would accentuate the notable qualities of Kiku brand apples. These terms associated with Kiku's new design include "crisp & juicy", "vitality", "power your day", "taste the sweetness", "sugar", and "flavour burst"
The new Kiku global brand embraces a dynamic ethos by promoting extreme sport athletes. Bohm said.
"The marketing approach for Kiku varies slightly in the US. While Kiku is a low-calorie, low-carb, fat-free treat ideal for fuelling a hyper-active lifestyle, the apple has garnered wide appeal among everyday consumers seeking sweet, healthy, and tasty options to energise their everyday life," said Bohm.
"Kiku is the perfect choice for sweet apple aficionados desiring a superior Fuji experience. With its unparalleled Brix levels (the standard for measuring sugar content), Kiku stands out as the sweetest apple available in the market today."