Up to US$200m of damage caused to the Californian strawberry industry by storms and floods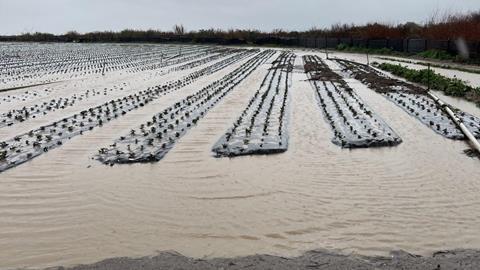 The Californian strawberry industry is counting the cost of recent storm damage with hundreds of acres of property damaged.
According to a release from industry body the California Strawberry Commission, the cost of the onslaught of rain, wind and floods is approaching US$200m.
"While the majority of family farmers are currently cleaning up minor storm damage, some farms have experienced catastrophic conditions," the release said.
"Erosion has washed away an estimated 350 acres. Another 1,490 acres are awaiting flood waters to recede. In total, 1,840 acres face catastrophic losses that could reach $200 million from crop, property, and equipment damage."
While the economic impact is significant, most strawberry farmers experienced minor storm damage.
"We were fortunate that these storms came at a time when most farms are dormant and thus farm worker jobs have had minimum impact," said Rick Tomlinson, California Strawberry Commission president.
"We are thankful to the farm workers who have come back to work to help with the recovery."
One positive to come from downpour was that for the majority of the 31,852 strawberry acres in California that experienced minimal damage, the rain is a welcome change from the drought.
"The rain washes the soil and improves plant health. As soon as we get a few weeks of sun, the strawberry plants should recover in time to start harvest in the spring. With improved soil health from the rains, we should have a good season," Tomlinson said.