Rabobank says Southern Hemisphere industry will be put to the test in "the first regular season after Covid-19"
Market analyst Rabobank has said that record volumes are expected during the new Southern Hemisphere sweet cherry season, which will reveal how the "return to normal" in the first regular campaign after Covid-19 is unfolding in each producing country.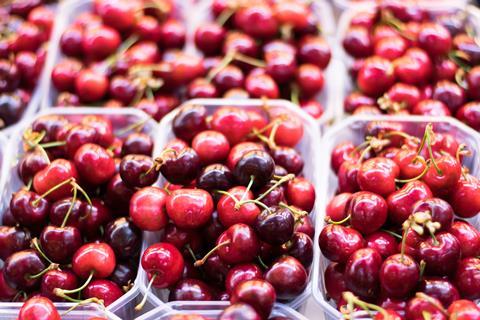 "All cherry producers in the Southern Hemisphere will face similar challenges in the form of increasing competition, declining prices, and narrowing margins due to elevated production costs," said Gonzalo Salinas, senior analyst – fresh produce at Rabobank.
Chilean exports to rise
According to the new report, titled 'Southern Hemisphere Cherries, Growing Exports and Challenges', exports from Chile will continue to increase despite the challenges being faced.
Sweet cherries are Chile's leading fresh fruit by value, and third by volume, reaching US$2.1bn FOB and 355,000 tonnes in the 2021/22 season.
In the last decade, exports of Chilean sweet cherries to China have grown sevenfold.
"However, for the last three years, Covid-related issues upended the Chilean sweet cherry promotional campaign during the peak sales season in China," explained Salinas. "The 2022/23 season will be a challenging one for Chile in terms of production, internal and external logistics, and market diversification."
Argentina is the second most important country for cherry exports in the Southern Hemisphere, Rabobank continued, with 5,433 tonnes in the 2021/22 season.
"Unlike Chile, which exports nine out of ten cherries to China, Argentina's exports are more evenly distributed among North America (35 per cent), Asia (35 per cent), Europe (21 per cent), and the Middle East (8 per cent," Salinas outlined.
"The growth of Argentine sweet cherry exports has been driven by a more efficient and consolidated industry rather than by a major increment in the planted area. Limited growth is expected in the medium term."
Australia affected by La Niña
The Australian cherry sector has been in a growth phase for the past four years with over 450,000 additional cherry trees reaching bearing age since 2018, Rabobank reported.
Despite this, production volumes continue to be affected by three consecutive La Niña weather events.
According to Rabobank's report, this is expected to dampen the production outlook for the upcoming harvest, impacting returns for many growers.
Together with weather events, logistical challenges have decreased exports to key markets, particularly to China.
In the US, meanwhile, shipments of US fresh cherries to the domestic market in 2022 were down 36 per cent year-on-year (USDA data).
The primary reason for the decline in production was cold spring weather in the Pacific Northwest, Rabobank said.
"Unsurprisingly, the lower US production impacted exports," Salinas confirmed. "On the other hand, US imports of fresh cherries increased 50 per cent year-on-year through August.
Opportunities for coming seasons
"Sweet cherry consumption is still low in markets other than China, with plenty of room to grow," said Salinas. "There are opportunities to test market demand in the US, the UK, and Europe to replicate part of the high volumes marketed in the Northern Hemisphere summer season.
"Chile, Argentina, and Australia are all moving in the same direction in terms of diversifying their destination markets, improving the efficiency in their processes, and focusing on high-quality production.
"Also, these countries will continue to try to bring forward production in order to avoid the peak of supply in the Chinese market, with the use of proprietary cultivars," he added.