South African summer citrus is likely to enter the US market earlier than it did in 2021
The South African Summer citrus marketing campaign in the US is likely to start in earnest by the middle of June, according to Summer Citrus from South Africa.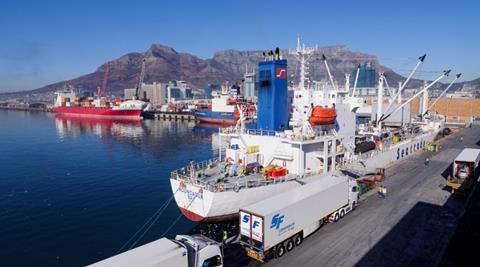 This will be some weeks earlier than last year and is the result of the Californian crop coming to an early end this year.
First container shipments are already on the water and the first of the weekly conventional reefer vessels is likely to start loading by the middle of May.
"The development of the fruit on the trees will determine the date of departure of the first conventional reefer," said Summer Citrus from South Africa spokesperson Boet Mouton.
The fruit for the Summer Citrus programme originates from the south-western parts of South Africa because these regions have been the only ones cleared for entry into the US.
Mouton explained that the early entry to the market gave South Africa extra sales weeks during its season which normally ends in October.
"We anticipate that we will ship between 85,000 and 90,000 pallets, the bulk of which will be part of the conventional reefer programme," he outlined. "This programme is extremely successful and allows for logistical stability for our growers at a time when port and shipping logistics are increasingly complex.
Conventional reefer vessels for the US programme are supplied by Seatrade and will be loaded weekly from the middle of May, or a soon as the fruit is ready for picking.
Weekly sailings will continue until September to enable weekly arrivals of fresh supplies of citrus.
Charles Gantz of Anlin Shipping, the coordinating agent in Cape Town, said it expected to manage between 65,000 and 70,000 pallets on vessels destined to discharge at the port of Philadelphia on the East Coast of the US this year.
South African citrus shippers to the USA normally use containers at the start and the end of the season. This year South African growers will be grateful that they have the conventional programme at their disposal as everywhere around them exporters are facing a shortages of containers.
While container shipments have in recent times been disrupted, particularly due to floods in the port of Durban and delays elsewhere in South Africa ports, conventional reefer vessels have been loading at the Fresh Produce Terminals in the Durban port as well as in Cape Town on the trade route to Europe.
It has also been confirmed that conventional reefers have been loaded in both Durban and Cape Town for shipments to Russia.
The reefers are supplied in terms of a joint shipping programme by Cool Carriers and Seatrade and carry citrus, apples, and pears.
Fruit is delivered to St Petersburg in Russia, either by direct shipment or via transshipment through ports in Western Europe.