Leading Washington State fresh produce companies will join forces as part of a new agreement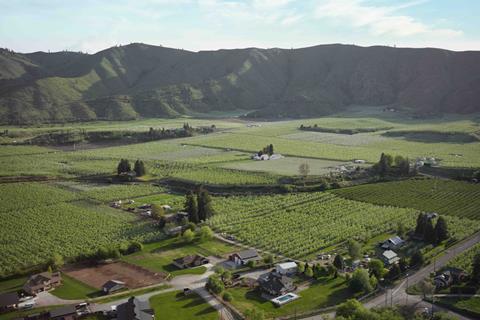 Starr Ranch Growers/Oneonta Trading Company – which includes Custom Apple, Diamond Fruit and Apple King—have announced an agreement has been reached to join forces with CMI Orchards, delivering more than 8m cartons to CMI's manifest.
This strategic move brings together two of Washington State's leading fresh produce companies forging a powerhouse of innovation, quality, and building on CMI's commitment to leading the industry with the largest selection of core, organic and specialty apples, pears and cherries under one roof.
The addition of Juici and Karma apples from Starr Ranch enhances CMI's high-flavor arsenal, which includes varieties such as Ambrosia Gold, KIKU, Kanzi, Jazz, Envy, Smitten, SugarBee, Sunrise Magic, EverCrisp, and Cosmic Crisp. In combination with core conventional varietals from Custom Apple, and organics from Apple King, the move boosts CMI's total volume by around 4.3m cartons of apples.
The new partnership with Diamond Fruit Growers in Hood River, OR, brings an additional 2m pear cartons into CMI's fold, establishing CMI as the largest pear shipper globally with optical sorting technology and pre-sizing for versatility. Hood River represents one of the three best pear growing locales around the world, and this addition means CMI now supplies pears from all three regions—Hood River (Diamond), the upper Wenatchee Valley (McDougall and Sons, Independent Warehouse and Hi-Up) and imports from Rio Negro, Argentina (Kleppe).
Along with apples and pears, CMI anticipates an additional volume of 1.8m cartons of cherries, with more early and late-season offerings. "Extending the high-velocity cherry season means our retail partners can reap the benefits of one of the most lucrative times of year for longer, and come to one place for all the very best apples and pears year-round," explained Bob Mast, president of CMI Orchards.
Jim Thomas, owner of Custom Apple Packing and chairman of Starr Ranch shared his excitement about the partnership. "After 90 cherished years nurturing the Starr Ranch community of growers, team members, and customers with unwavering integrity, the visionary path forward is unmistakable clear—uniting with CMI Orchards. This forward-thinking collaboration has been a long time in the making, promising unprecedented benefits and a bright future for our growers and retail partners."
Thomas extended heartfelt gratitude to Starr Ranch chief executive Don Odegard for his guidance and dedication during this pivotal transition period, laying a solid foundation for prosperous times ahead.
"As we transition, the seasoned leadership of Bob Mast, who has guided CMI Orchards with distinction for over a decade, instills great confidence in what lies ahead," Thomas said. "United, the CMI and Starr Ranch teams herald a future brimming with potential, grounded in a shared vision of success, innovation, and diligence. I remain as committed as ever to not only our orchard but to nurturing a vibrant and sustainable future for the Wenatchee Valley's fruit industry."
Bryon McDougall, chairperson of CMI Orchards, expressed his excitement about collaborating with the esteemed Thomas family of Starr Ranch Growers, envisioning a golden chapter ahead for CMI.
"We hold Jim Thomas and the Thomas family in the highest regard," said McDougall. "Uniting with a company of Starr Ranch's stature—a true powerhouse that has significantly shaped the tree fruit industry—not only marks the onset of an exhilarating new chapter for CMI but symbolizes a partnership rooted in deep respect, integrity and a shared vision for the future."
"Customers, partners, and fruit enthusiasts can expect an even greater focus on quality, sustainability, and customer satisfaction, all while meeting CMI's outstanding standard of service," added Mast.
"Starr Ranch and CMI have an exceptional legacy of integrity and producing the finest apples, pears and cherries, and this move leverages our collective strengths, expands our offerings, and combines the skills and experience of two outstanding teams of people, allowing us to drive innovation like never before."