Alessandro Turatti of Gulftech International picks out key trends in the fresh produce business and explains how technology can help companies tap into their commercial potential
Trends in fresh produce processing change constantly, mainly because there are so many factors that drive innovation and new product development: consumer demand, market conditions, technological advances, and many more. However, certain longer-term patterns and trends remain.
Sustainability is one of these. Very often, the issue is not translated into concrete actions and solutions. Brands will be measured on how sustainable they are, as the industry continues to achieve sustainability targets. We all need to move beyond sterile greenwashing. We must offer innovative and pragmatic solutions. Companies that do not put sustainability at the forefront in 2023 will be left behind.
Verdant Technologies, a subsdiiary of our group Gulftech Internatiional, has patented a system called HarvestHold that makes it possible, in a completely natural way, to regulate the degree of ripeness of many fruits and vegetables. Broccoli and tomatoes, for example, can arrive on supermarket counters at the right level of ripeness, minimising waste and guaranteeing consumers' first-rate produce.
Another key trend is automation, but is this the answer to labour shortages? I agree that designing machinery and processes that require less human intervention is the best solution. However, to address this challenge in the right way requires a multidisciplinary approach and an innovative mindset.
What does this mean? Well, first, select equipment and design layouts that are easier to clean and maintain. Second, reduce human error by automating repetitive work. The relationship between automation and food safety is clear: no human intervention considerably reduces the chances of contamination.
At the same time, we must bridge the digital divide between untrained operators and those sophisticated, automated processing line technologies. The increased use of intuitive operational interfaces will certainly help, as will convincing a new generation of digital natives to regard the this industry as worth joining.
I also predict an increased use of robotics in processing lines, whereas until now this has been used mainly in receiving and packaging areas.
Machine learning is earning
Artificial intelligence and digitalisation is already helping the industry in different areas, from food safety to automation. For the produce industry, freshness and quality are a top priorities, which explains why applications so far have been directed mostly at sorting, grading and inspecting fruit and vegetables.
But AI can discover previously undiscovered correlations and patterns, especially where there are too many variables for the mind to handle. For instance, equipment could reduce energy consumption and food waste without human intervention. Also, it is possible to increase yields and working time through preventive maintenance. A programme to continuously monitor equipment and profile its performance could flag when a component or a part requires attention.
In 2023, traceability remains a major focus for the produce industry. The pandemic, ongoing outbreaks of foodborne illness, and regulatory requirements such as the US Bioterrorism Act all make it important to incorporate the most advanced technologies.
Even from a consumer perspective, concern about the origin of food and the way it is processed has never been so high. For example, virtual labels with blockchain technology are already used in the wine industry to enable transparency right along the supply chain.
As for the fresh-cut produce industry, there is undoubtedly a need to reduce costs and increase productivity. Other companies in our group, like ABL and Atlas Pacific, are world leaders in fruit processing. We have new solutions that reduce waste and the consumption of water and energy considerably. Some of these cutting-edge solutions can also be applied to the processing of vegetables and leafy products.
What is clear to me is that categories can be redefined with the inclusion of new processing models. We see this in so-called controlled environment agriculture or vertical farming.
In addition, systems to reduce or eliminate the use of plastic will reshape the fresh produce offer. Another Gulftech company, Sinclair, recently launched a series of compostable labels, which underlines the importance of environmental protection in this business.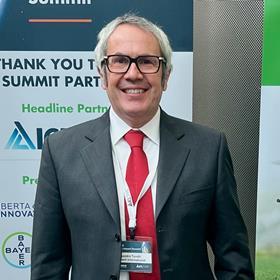 Alessandro Turatti is director of business development at Gulftech International. He has worked for several decades in various sectors of the produce industry in the fields of processing, automation, and digitalisation. The fifth generation of an Italian family that founded the eponymous company in 1869, Turatti has lived for many years near Salinas in California, where he incorporated and directed the group's North American branch (now owned by two Italian private equity funds). His present position at Gulftech International, a diversified holding group and global leader in the food and packaging sectors, offers him a well-rounded view of topics ranging from the agricultural sector to packaging, with a focus on processing.