New Australian research project aims to help growers in cool climate regions manage the effects of climate change
Scientists are giving Australian horticulture growers in cooler climates the opportunity to participate in a A$6.4m research trial programme to help industry adapt to climate change.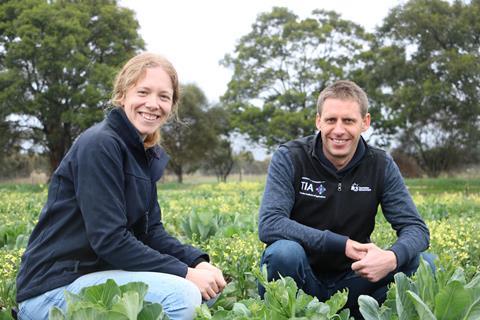 The five-year project aims to grow cool climate horticulture production by 20 per cent and is being delivered through Hort Innovation and led and co-funded by the Tasmanian Institute of Agriculture (TIA), with support from national and international industry partners.
Hort Innovation chief executive Brett Fifield said the aim is to investigate what operational adjustments need to be made to farms in various regions to achieve maximum productivity in the face of unpredictable weather patterns.
"This project is all about getting growers the best possible production outcomes," he said.
"Researchers will look at fragile soil management, nutrient and water use. High-yield plants that can be picked early to maximise returns, and establishing protected cropping environments that offer stable, pest and disease-controlled growing environments are further priorities."
The programme will span various sectors, including peas, potato, pyrethrum, vegetable seed, cherry and berry production.
Co-investing industry partners are Bejo, Potatoes NZ, Simplot, Premium Fresh, Scottish Society for Crop Research, Botanical Resources Australia, Reid Fruits, Hansen Orchards, Costa Group, Driscoll's Australia, South Pacific Seeds and Fruit Growers Tasmania and contributions from the Australian government.
TIA horticulture centre leader, Nigel Swarts, said primary producers across the horticultural sector are partnering to address the critical issues and risks associated with climatic variability and extremes in temperature and rainfall.
"With climate change, we can expect heat stress causing irregular yields for peas and potatoes. For fruit crops like cherries, there is the threat of premature ripening and projected increases in pest populations. Nutritional quality in terms of sugars, acids, or antioxidant capacity will also shift, impacting fruit quality outcomes," Swarts said.
"It is vital that we undertake this research now to give growers the knowledge, tools, and confidence to invest and sustainably expand into the future.
"Our industry partners are integral members of the team who will help us to define the research questions and develop the on-the-ground program design to ensure it is highly relevant for industry."
Fruit Growers Tasmania chief executive Peter Cornish said industry is increasingly exploring and investing in protective cropping systems to manage climate risks, and there has never been a larger appetite for collaboration to solve issues being faced by growers.
"Tasmanians have always been early adopters of this technology, particularly in the berry sector where we have seen this technology allow them to manage climate variability, reduce risk, increase crop reliability, and drive business growth and employment outcomes," said Cornish,
"Through this project, we can see the potential for industry to get some important tools that will help them inform production decisions. This project could not have come at a more valuable time."
Through industry field demonstration days and workshops, trial sites will be accessible to growers. All project findings will be made available to the industry through resources such as fact sheets, webinars and case studies.