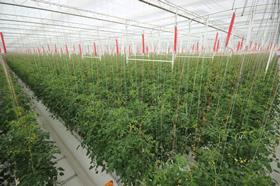 Al Dahra BayWa has harvested the first tomatoes from its climate-controlled greenhouse in Al Ain, UAE, since it was wrecked in the January 2020 flood.
German group BayWa called this first harvest 'a new beginning' following the 10ha facility's reconstruction on the ruins of the flagship project, which was initiated in 2017 as part of a joint venture with the Al Dahra Group of Abu Dhabi.
Thanks to a new on-site packing line, the complete production process – from seed to packaged product – is now entirely in-house, according to BayWa. The number of varieties has also been increased to six.
"The flood was a hard blow to us, but we made a virtue out of necessity," said Klaus Josef Lutz, chief executive officer of BayWa. "From the start, Al Ain was our flagship project for gaining experience in this business sector and developing our own competences in the planning, project management, construction and operation of climate-controlled greenhouses in arid climates. We have now achieved our objective via a detour: unlike when the project started three years ago, this time we did everything ourselves, from planning to installation. As a result, we seized the opportunity to expand our capabilities in line with our strategic objectives."
According to Lutz, due to climate change and a desire for greater regionality in terms of food production, more regions will be using climate-controlled greenhouses for sustainable food production in the future.
"Our wealth of experience and our network allow us to serve these needs optimally from a single source,' he said.
Until the flood, BayWa had been supplying food retailers in the Middle East with locally produced tomatoes all year round.
'The reconstruction last year was used to attune the technical systems even more closely to the ambient conditions on-site,' the company stated. 'For example, cooling capacities were increased to keep the temperature in the greenhouse constantly at an optimum level. The cooling and pump system now features greater redundancy to protect the crops sufficiently in the event of an outage.'
Production is apparently set to rise continuously in the coming months before returning to full capacity by the middle of the year.
'The locally cultivated tomatoes meet the same high quality standards as European imports, which are held in high regard by consumers in the UAE,' BayWa stated. 'Thanks to local production, however, it is possible to offer them at a lower retail price, plus they have a significantly smaller environmental footprint.'