Given the current challenges, including logistics disruptions and soaring costs, the Turkish fruit exporter sees its markets in Germany, France and the UK as the main priority
At a time of multiple challenges, including the continuing impact of the Covid-19 pandemic, rising costs and the early signs of climate change, Turkish fig, cherry, apricot, plum and chestnut exporter Alanar is happy to focus on its main markets in western Europe.
The coveted Chinese market had been a game-changer for Alanar's cherries when the protocol was signed in 2020, the company earning a 52 per cent market share of Turkish cherry exports to China in the first year.
However, exports have remained suspended ever since. "We expect the market to open up again in the future, and China to be a main market for Turkish cherries," says sales and marketing coordinator Yigit Gökyigit.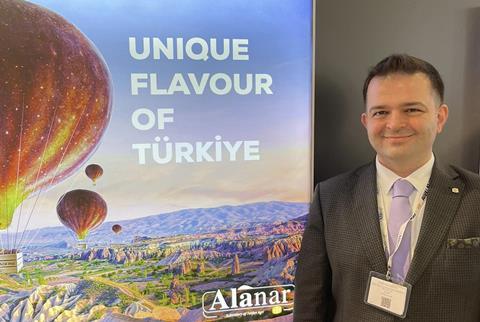 In the meantime, the European market is mercifully closer at a time of rising fuel and logistics costs. "We expect to harvest 250 tonnes of cherries from our own orchards this season," says Gökyigit. "That volume is eventually set to rise to 2,000 tonnes. I don't see much opportunity for growth in markets like Asia and North America at the moment, especially considering the logistics costs, but Germany, the UK and France should be good markets this year. We work with the biggest supermarkets in Germany. We want to continue growing our business there, as well as in other European markets."
The last cherry season was impacted by climatic change, according to Gökyigit, which he views as a growing threat.
"2021 was a bit of a disaster for cherries," he says. "The weather was very changeable, including low temperatures during the flowering period. This meant that the season was shortened to just 45 days, compared with the usual 65-70 days. This is attributable to climate change. The volume was also low. However, this season will be much better, with normal quantities expected again."
Logistics is going to be the big factor this year, Gökyigit warns, with costs increasing, especially for airfreight. "To some regions, logistics is going to be much more expensive," he says. "We will see. Maybe we will do more shipments by container rather than by air. This will definitely be the case for longer shelf-life fruits, such as pomegranates. But for figs and cherries it's unfortunately not possible."
Alanar has a long history in the UK market, supplying both figs and cherries. Apricots are also a major product for Alanar, with 900 tonnes expected from the company's own orchards this season.
"This is a large volume of apricots and we mainly intend to export to Germany, the UK and France," says Gökyigit. Alanar has made significant investments in its own production since its 2018 acquisition by Tekfen Holding, and the company is starting to see the results.
"We are getting ready to harvest 100 tonnes of figs from our own orchards, which will make us probably the biggest fig grower in Turkey," says Gökyigit. "Our fig orchards are still very young, but we will reach a production volume of over 2,000 tonnes in around five years. Meanwhile, we buy from other growers."
According to Gökyigit, Alanar coped well during the Covid crisis, keeping staff informed about the correct procedures. However, the pandemic's impact on logistics has been beyond its control.
"The rates have soared over the last two years and they are increasing this year as well," says Gökyigit. "This meant we had to temporarily halt fig supplies from our Southern Hemisphere sources in Peru and Mexico."