As it opens its 50th organic branded space in Italian supermarkets, Almaverde Bio says dedicated organic areas help reach new consumers
Organic fruit and vegetable sales may have experienced a general slowdown in the past year as a result of the so-called "cost of living crisis", but Italy's Almaverde Bio has shown that efforts to make organic produce stand out from the crowd can bring great rewards.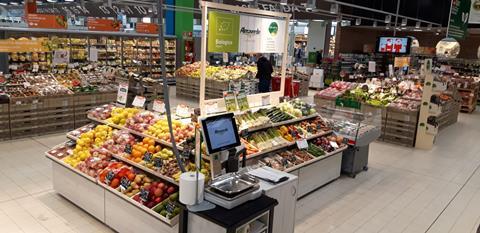 The organic company's "Isola" project, which has seen separated "Islands" of organic produce set up in Italian supermarkets, has been active since 2015 and has garnered positive sales, according to director Paolo Pari.
Managed by Canova, the Apofruit Group company specialising in fresh organic fruit and vegetables, the Islands are currently installed in eight Italian regions, Lazio, Emilia Romagna, Marche, Abruzzo, Tuscany, Lombardy, Piedmont and Veneto, with six large-scale distribution brands involved.
"The sales results are very positive," said Pari. "In 2022 we sold 1,400 tonnes of fresh and packaged organic fruit and vegetables in the Islands and, in the first quarter of 2023, the market grew by 17 per cent considering the recent openings and by 6 per cent on a homogeneous network. The data are in contrast with the general market trend and further growth is expected by the end of 2023 in the number of Islands which represent a winning format for retaining consumers and increasing awareness of the value of organic."
May saw the opening of the 50th such Island in one of the largest fruit and vegetable exhibition spaces in the country, at the Ipercoop le Mura in Ferrara.
"The Islands are personalised spaces in the heart of the fruit and vegetable departments of supermarkets and hypermarkets where the widest choice of fresh organic fruit and vegetables in Italy is on sale," the company stated. "These are well-characterised spaces where you enter the home of the member producers of the Apofruit cooperative, under the umbrella of the Almaverde Bio brand."
Communication activities are supported by the 'It's Bio' Project of AOP Gruppo Vi.Va, providing space for animation actions at point of sale in order to reach not only loyal organic buyers but also new consumers.
It's Bio is a project funded by the EU and AOP Gruppo Vi.Va, with the participation of Almaverde Bio, Apofruit, Codma OP, Ca' Nova, Coop Sole, AOP La Mongolfiera, OrtoRomi and OP Terre di Bari.
Almaverde Bio said the Islands should be regarded as spaces to spread knowledge and communicate on the nutritional values of organic products and benefits of organic production.
"The absence of synthetic chemicals in plant protection and the exclusive use of organic fertilisers are just some of the characteristics that distinguish this production method certified by the EU," the company stated. "Producing organically also means safeguarding plant and animal biodiversity, it means promoting the development of useful insects which naturally fight harmful insects. It means seeing the growth of companies managed mostly by young farmers who are passionate about their work and committed to defending the environment. It means fighting climate change, because organic production management has less impact on greenhouse gas emissions. It also means reducing the carbon footprint by limiting CO2 emissions."