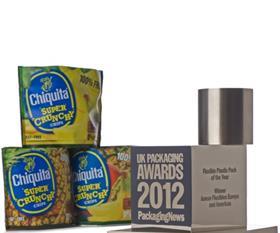 Amcor Flexibles and Chiquita Brands have won the much coveted Flexible Pack of the Year award at the UK Packaging Awards, for Chiquita's Super Crunchy Fruit Chips – a convenient single serve snack made from 100 per cent naturally dried fruits.
'When developing Super Crunchy Chips, we knew that to make a real impact in the rapidly growing 'Food-to-go market', the brand had to be supported by a new packaging format which would enhance the customer experience and communicate the new product offering thanks to its shelf stand-out,' said Claudio Finol, packaging manager at Chiquita Brands. 'Amcor PushPop has proven to be the perfect choice.'
Amcor PushPop is a patented stand-up pack with an easy-opening system which does not affect barrier integrity. Consumers simply push in the special perforation on the top side and pop the pack wide open.
'Amcor PushPop met all of Chiquita's needs and more,' said David Mayers, sales manager for fresh produce at Amcor Flexibles Europe & Americas division.
'The multilayer pack protects the fruit and the integrity of the chips as well as the nutritional value,' he explained. 'Amcor PushPop is very convenient and also fun to use. The positive launch results encouraged us to enter the UK Packaging Awards together.'