Aim is to develop a smart label that will provide greater transparency to environmental efforts of producers
Anecoop has signed a collaboration agreement with Global Omnium and Tribunal de las Aguas, to lead the evaluation and certification of the environmental impact of agricultural production under the HortiGO2 project.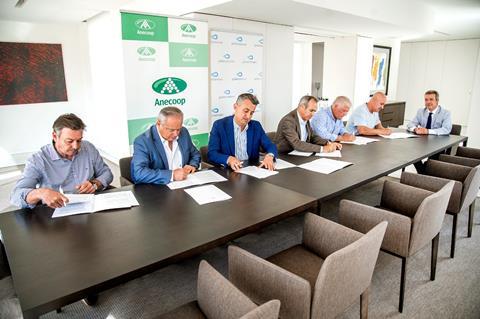 The project aims to measure the water footprint and the absorption capacity of agricultural activity carried out in the irrigable areas of the Irrigation Communities of the Acequias de Rascaña, Casinos, San Pedro Apóstol de Godelleta, Llíria and Mislata.
The agreement will enable the development of a smart label model based on European standards and certifications that guarantees the traceability and rigor of the positive impact of the products, generating added value for consumers and helping to preserve natural heritage and biodiversity of rural areas because "without agriculture there is no there is a solution", according to Juan Luis Pozo, director of sustainability at Global Omnium.
Anecoop president Alejandro Monzón said the project will help growers define the steps they are taking to reduce carbon emissions and differentiate the products in the market.
"With this project we'll be able to monetise and demonstrate that agricultural activity is an example of sustainability and environmental and economic responsibility," Monzón said.
Also present at the signing was Angel Luis Sánchez, regional director of the Mediterranean for Aenor, the organisation that will be responsible for the certification of the carbon footprint.
Sustainable agriculture has a positive impact not only on the environment, but also on the local economy and can boost economic development in rural areas.
The agreement will guarantee the transparency and rigor of the measurement of the carbon footprint of products through the design of a certified smart label, which is a plus of guarantee for the consumer.