Proposed regulation, which would outlaw all fruit and vegetable packaging in the EU, needs a major rethink, according to Italian apple suppliers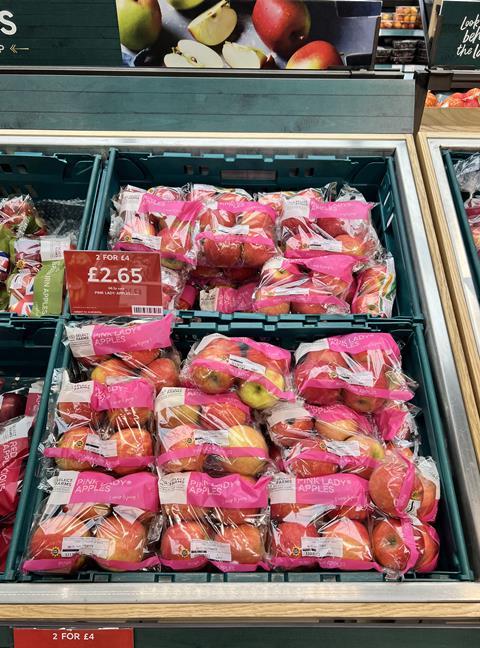 A ban on packaging that would require all fruit and vegetables to be sold loose in the EU – except for sales units bigger than 1.5kg – is "discriminatory" and "disproportionate".
That's according to Assomela, the Italian association of apple producers, which this week called on the European Commission to reconsider a draft regulation for its proposed Packaging and Packaging Waste Directive (PPWD).
The regulation would affect all types of packaging, including cardboard, across all sectors. But Italy's apple association is among a number of groups in the fresh produce industry that believe it goes too far, and focuses too much on reuse rather than recycling.
A spokesperson for Assomela said the Italian apple sector had made significant efforts in recent years to find and use innovative packaging solutions that are environmentally friendly and safe for consumers.
"Although the Commission's goals on packaging are generally commendable in the context of a transition towards sustainable packaging solutions, apple producers are primarily concerned about the discriminatory approach used in the proposed regulation for the fruit and vegetable sector and the Commission's shift of focus from recycling to reuse," it said. "According to apple producers, the demands on the sector and [this] specific product category are disproportionate to the overall objective."
More dialogue required
Assomela wants European institutions to reconsider the ban. It also says it wants more transparency and dialogue with stakeholders to determine a reasonable timeline that considers the effects of such a ban.
"It seems the Commission did not consider packaging's numerous functions in the fruit and vegetable sector," it added. "Packaging serves to transport and protect the product during transportation and logistics operations; and it is needed to extend shelf-life, prevent food waste, and to avoid microbial contamination.
"What's more, packaging serves to communicate mandatory information to consumers (such as variety, traceability, origin), and to speak to the consumer about innovations that differentiate the product – in the case of apples, the example of new varieties is obvious."
The proposed regulation would also mean that all stickers placed on fruit had to be industrially compostable, which means they must be able to break down within 180 days at an industrial composting facility. The term 'home compostable', in contrast, means they have to break down within 12 months in the ambient environment.