Vegetable seed specialist also unveils 'Together, we're the revolution' slogan in Madrid
The vegetable seeds branch of BASF, which operates in the market under the Nunhems trading name, has said that it is "spearheading a new market revolution" with Sunions, which it is marketing as "the first onion that won't make you cry".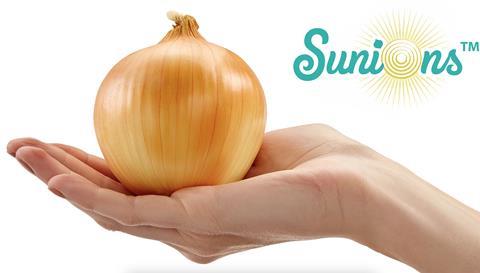 Under the slogan 'Together, we're the revolution', the company is showcasing itself at Fruit Attraction in Madrid as the essential partner for the entire value chain.
"Vegetable seeds is a reliable global partner," said Francisco Solera, country sales manager. "We develop the best vegetable solutions for consumers in conjunction with producers, marketers and retailers. And all with a single objective in mind: 'Spearheading change'."
The company said it had already achieved this with the market launch of its Galia Galkia melon range, which guarantees consumers the best possible flavour thanks to its clear ripeness indicator, with Sunions the next to get a push.
"Sunions is so much more," said Francisco de la Cruz, account manager for vegetable seeds, adding: "It's the sweetest onion on the market – it's almost wickedly sweet.
"It's like a fruit, so you're free to talk, sing and even kiss without fear," he added.
Available from December to April, Sunions were noteworthy for their crispy texture and versatility in the kitchen, BASF said.
"Thanks to its true flavour, it's ideal in salads, sautés or as a basis for all kinds of recipes," explained Crisanto Ampuero, consumer and customer manager for vegetable seeds at BASF.
"We're giving supermarkets the chance to showcase a unique onion on their shelves, helping them to differentiate themselves and cement customer loyalty," Ampuero noted.