Fields of Opportunity event puts a spotlight on the company's solutions to increase sustainable food production
Bayer has said that it is ramping up efforts to provide agricultural solutions that advance sustainability and boost productivity at the same time.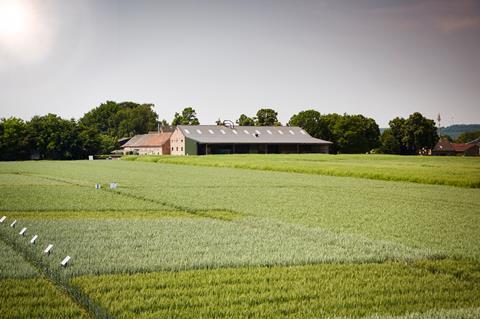 The company is looking to drive innovations in sustainable farming together with partners as it aims to tackle two of the biggest challenges of our time – food security and climate change.
Its Fields of Opportunity event, which takes place today (17 October) on the Bayer ForwardFarm in Rommerskirchen, Germany, will demonstrate how farmers can benefit from reducing their ecological footprint while also increasing their yields.
"The pressure on food systems and on the environment is greater than ever before which is leading to an increase in global hunger," said Rodrigo Santos, member of the board of management of Bayer AG and president of the company's crop science division.
"We need to accelerate the transformation of agriculture and implement solutions that are more sustainable and more productive at the same time," Santos outlined. "Re-thinking global food supply and intensifying collaboration with stakeholders on all levels is key to benefiting farmers, people, and the planet.
"To this end Bayer supports the combination of innovative products and digital technologies with carbon farming, low-till, cover crops and biodiversity protection."
The Fields of Opportunity event puts a particular focus on topics including carbon farming, Bayer's FieldView digital farming platform, crop protection and biodiversity.
"In the future, farmers will measure the success of their farms as much by the terabytes of data captured from their fields or the tons of CO2 sequestered, as by the yield produced," Santos predicted.
Several experts from across the sector will attend the event, including Urs Niggli (agricultural scientist), Ruramiso Mashumba (chairperson of Zimbabwe Farmers Union), Sara Menker (CEO of insights company Gro Intelligence) and Arianna Giuliodori (general secretary of the World Farmers Organization) .
They will discuss solutions to overcome global hunger, support smallholder farmers and make agriculture more sustainable.
"Bayer has put sustainability at the heart of its strategy, ultimately aiming to reduce greenhouse gas emissions in major agricultural markets – per kilogram of crop yield – by 30 per cent by 2030," the group stated.
"In addition, the company works towards reducing the environmental impact of crop protection products by 30 per cent by 2030 and has committed to enable 100m smallholder farmers to become more productive and profitable farms."