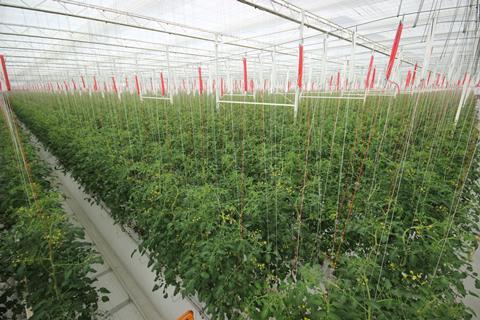 The first crops to be grown at a brand new greenhouse facility in Al Ain, in the eastern part of UAE, have been harvested– a significant step in the country's efforts to improve food security while reducing its dependence on imported fresh produce.
Al Dahra BayWa Agriculture, a joint venture established last year by German group BayWa and Abu Dhabi-based Al Dahra, said it had picked the first 1.5 tonnes of snack tomatoes at the site, just two months after planting its first 90,000 seedlings.
From October, consumers will be able to find the tomatoes in retail stores, sold as a premium offering under the Mahalli brand with a clear emphasis on quality and taste.
As harvesting got underway at the first of two planned glasshouses – both of them state-of-the-art and climate-controlled – planting at the second was reportedly also underway.
With the centre adhering strictly to European certification standards, it is understood the entire first crop was already sold prior to it being picked.
Both of the joint venture partners clearly see strong commercial potential in supplying the UAE market with locally produced fruit and vegetables – no easy feat given the environmental and logistical challenges – and, by doing so, cornering part of a market that values quality and, increasingly, sustainable sourcing.
"I'm delighted that we have built a state-of-the-art, climate-controlled greenhouse in record time with the support of our local and international partners and that we're already harvesting the first tomatoes," commented BayWa chief executive Klaus Josef Lutz.
"The project is part of our group specialities strategy, where we're concentrating on special products for lucrative markets and long-term sales opportunities."
Christiane Bell, had of BayWa's global produce business unit, said consumer interest in local production was growing, describing the Emirates as an "extremely attractive" market.
"The Emirates must import 80 per cent of all their goods," she observed. "This is why there is strong desire for self-sufficiency, especially when it comes to fruit and vegetables. At the same time, people are highly aware of the value of high-quality foodstuffs."
The Al Ain greenhouses' modern, climate-controlled set-up should allow production to continue year round, irrespective of conditions outside.
The partners argue it will use up to 70 per cent less in terms of resources, while producing ten times more produce than can be harvested in open-field production.
By the end of October, the facility is expected to harvest 15 tonnes per week.
The harvested vegetables will be weighed automatically and packed in trays of different sizes that have apparently been developed with sustainability taken very much into account.
The packaging itself will play an important role in the way the product is marketed and merchandised: it has a film top that can be resealed up to 22 times.