New Huelva-based company will grow premium varieties from VentureFruit and associated breeding programmes
Munich-based portfolio manager BayWa Global Produce and Spanish fruit specialist Nufri have joined forces to expand the supply of berries for the European market, intensify their long-standing partnership in growing and trading fresh fruit.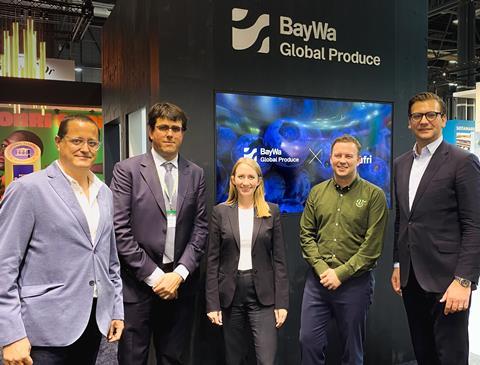 The 50:50 joint venture, based in Huelva, Spain, will grow premium new blueberry varieties from BayWa Global Produce Group's VentureFruit subsidiary and associated breeding programmes.
"In partnering with Nufri, we are taking the next big step towards verticalisation and growth for our berry business," said BayWa Global Produce CEO Benedikt Mangold.
BayWa Global Produce is a leading supplier of high-quality fresh produce in the core categories apples, berries, and exotic fruits. Nufri has an important presence in the main central markets of the Iberian Peninsula and is one of Spain's leading producers and distributors specialising in apples, stonefruit and citrus.
The deal, which is subject to approval by the European Commission, will expand BayWa Global Produce's activities in the key blueberry segment and further strengthen its position in the international fruit business. The verticalisation in Spain aims to secure direct access to premium blueberries to establish these volumes in the most promising European markets.
VentureFruit, the IP management and commercialisation business of BayWa's subsidiary T&G Global, is strategically investing in the development of premium raspberry, blackberry and blueberry varieties which deliver consistently large, tasty berries with a longer shelf-life, increased productivity, and greater resistance to pathogens.
"Access to new premium genetics is key for growers today and this partnership will boost our ability to produce the best berries that consumers want," said Ignasi Argilés Figuerola, managing director of Nufri.
With blueberry varieties from VentureFruit's joint venture breeding programme with Plant & Food Research ready for testing in Europe, the newly founded company has signed on as one of the testing parties. Building on Nufri's growing expertise, the joint venture has plans to expand on its current farm in Huelva in the next three to five years with a focus on servicing the European market.
As a long-standing partner of BayWa Global Produce , Nufri is the only licensee in Spain to grow the premium apple brand Envy managed by T&G Global. Nufri is also one of the first commercial growers of the climate-tolerant Tutti apple from the Hot Climate Partnership, a collaboration between the Spanish Institute of Agricultural Research and Technology (IRTA), New Zealand's Plant & Food Research, the Catalan fruit growers' association Fruit Futur and VentureFruit.
New concepts in retail store design, the latest advances in vertical farming, new investment in sustainable packaging, and the development of alternative markets are among the central themes of this year's Global Berry Congress.
Click here to register for Global Berry Congress 2023
The world's leading event for the berry industry returns to the WTC-Beurs in Rotterdam on 28 November with another top-level lineup of expert speakers and highly relevant topics.
The agenda covers the latest trends and challenges that will shape the fresh berry category in the next 12 months, as well as game-changing innovations that will help the business to grow. Click here for more information.