The Belgian cooperative has announced the sale of the first green peppers of the year, with red and yellow varieties not far behind
Belgian cooperative BelOrta has auctioned its first green peppers of the year, supplied by producer Didier Algoet of Lentsche Heyde in Duffel and acquired by Vanderschrick of Anderlecht.
Peppers remain one of BelOrta's top products, appreciated for their versatility. According to the cooperative, home-grown red and yellow peppers are also due to arrive shortly.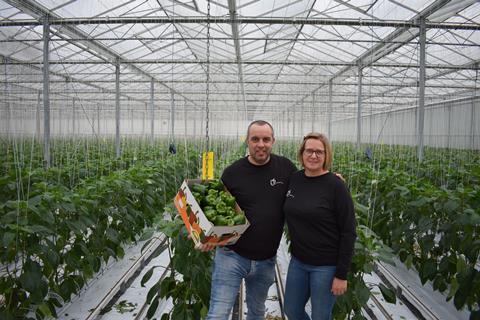 "In 2022, green peppers accounted for a production of approximately 2,200 tonnes at BelOrta, out of a total production of 20,700 tonnes of bell peppers," the cooperative revealed. "Within BelOrta, the area of red peppers decreased by 8 per cent compared to last year and the areas of green and yellow peppers increased by 33 per cent and 1 per cent respectively. This causes a slight decrease of 2 per cent of the general bell pepper area."
According to figures from GfK, commissioned by Flanders' Agricultural Marketing Board (VLAM), the vegetable is particularly popular among young Flemish people of under 40 years' old.
BelOrta not only offers the standard varieties of bell peppers, but also various specialties. "This includes the sweet pointed pepper, which can be used in all dishes with its sweet taste, but also the baby pepper as an ideal snack vegetable," the cooperative stated. "Our growers also produce more spicy pepper types such as the Jalapeño, Piccantina and Habanero."