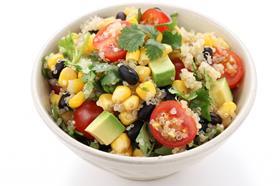 From this winter, canteens catering to Berlin's sizeable university population will be going almost meat-free, the Guardian reports, offering a menu from October that is 68 per cent vegan, 28 per cent vegetarian and 2 per cent fish-based, with one meat option four days a week.
"We developed a new nutritional concept mainly because students have repeatedly approached us with the request for a more climate-friendly offer at their canteens," said Daniela Kummle of student support organisation Studierendenwerk.
In 2019, Berlin universities fed 5.6m students through its canteens. That year a survey found that 13.5 per cent of Berlin's students were self-described vegans, compared with just 1.6 per cent across Germany, while an additional 33 per cent said they were vegetarians.
According to Kummle, the huge recent success of vegetarian and vegan canteens clearly demonstrates a change in behaviour among students. "There's a clear trend towards fewer animal-based products," she said.
In addition, Berlin's Humboldt University is reportedly planning to become climate neutral by 2030, while Berlin's Technical University aims to reach the same target by 2045.