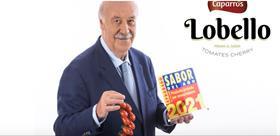 Grupo Caparrós has announced that its Lobello cherry tomato has won a Sabor del Año (Flavour of the Year) 2021 award. The prize is given to foods and drinks with outstanding taste, which have been tested and approved by consumers.
This is the third consecutive year that the company has won the prestigious award for its products.
Flavour of the Year is a quality seal given to products that achieve the highest rating in their category.
The company's Lobello vine tomatoes scooped the award after scoring highest in blind tastings carried out at Consumolab, the study centre of the Ainia group, dedicated to research and study of consumer preferences.
During the tasting, each product is evaluated based on five criteria: taste, appearance, smell, texture and general satisfaction.
"For more than a decade, our strategy has revolved around the constant search for flavour and quality, expanding and reinforcing our catalogue of premium fresh products and marketing our artisan gourmet products under the La Gergaleña brand name," the company said.
Caparrós noted that a large part of the tomato's success in the market is down to its appointment of Vicente del Bosque, the former football manager that led the Spanish team to victory in the World Cup in 2010.