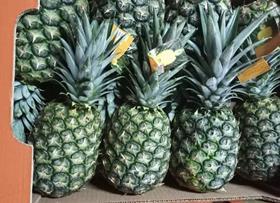 Ghanaian exporter YO Amankwah & Sons has long warned of the growing impact of climate change on the company's operations.
The pineapple and mango exporter is reliant on ample rainfall to ensure good sizes, but remains fearful of recent changes in weather patterns.
According to sales and marketing manager Samuel Owusu Amankwaa, while the largest (size A) pineapples are required for export to Europe, the rain in Ghana is currently insufficient to produce such sizes for the MD2 variety.
"Climate change is a major issue for our tropical fruits," he said. "The pineapple and mango businesses are becoming very challenging. The European programmes are only attractive for the larger sizes."
In addition, he said, Costa Rica is currently selling its pineapples at very competitive prices. "This is abig challenge to pineapples from West Africa," he explained, "even if we have better fruits with better flavour."
Thankfully, the company still has large pineapple and mango sizes coming out of neighbouring Côte d'Ivoire and is still able to export small volumes from Ghana.
The company has also diversified its business, focusing more on imports of various fruits into Ghana.
"We have started importing apples and grapes into Côte d'Ivoire," revealed Amankwaa, "under the name Fruit Brothers Côte d'Ivoire. Our apples are mainly from South Africa, but for grapes we import from South Africa, Peru, Chile, Egypt, Italy and Spain. At the moment, demand for grapes is at a record high in Ghana and Côte d'Ivoire."