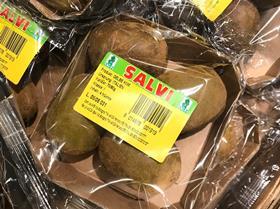 The head of Italy's largest association of fresh produce companies has welcomed a move by the Italian government to stop buyers requesting additional certification in the wake of the global coronavirus outbreak.
Published on Monday 2 March in the Gazzetta Ufficiale, the official journal of record of the Italian government, the decree makes it illegal for buyers of agri-food products to request certification on Covid-19 from their suppliers.
'This is an important victory for Fruitimprese in terms of unfair practices between customers and suppliers,' said Marco Salvi,president of Italy's largest association of fresh produce companies, Fruitimprese.
Calling on buyers and officials around the world to trust the integrity of Italy's food safety systems, Salvi said more needed to be done to reassure the market.
'The coronavirus emergency is unfortunately having a substantial impact on companies in the fruit and vegetable sector,' he commented. 'Decisions and communications from national and regional authorities are creating an atmosphere of uncertainty and fear in our country, but also among operators in other countries that receive Italian product.'
Salvi said his members understood the need for public health authorities to contain the spread of infection, but argued that there was a danger that the reputation of Italian products could be damaged in the process.
'European retail chains are asking for guarantees, especially at an institutional level, that Italian products are safe and controlled, rather than trusting what comes from their commercial intermediaries,' he observed. 'The danger is that they can turn to other producing countries, with the risk that we lose market share.
'The way the authorities are behaving in our neighbouring countries is creating great insecurity. The way Italy is set up does not allow shipments to be organised without a guarantee that the product and those who transport it can cross borders and that deliveries can be made.'
Another immediate problem for the fresh produce business in Italy in the wake of the coronavirus outbreak appears to be the departure of a large number of foreign agricultural workers, especially Romanians.
'They are returning to their country of origin for fear that, before long, this will no longer be allowed by the health authorities,' Salvi said. 'It is also necessary to define health protocols that allow companies, once the danger of contagion has been averted, to carry out their activities as normal.'
He added: 'It is essential for the authorities to clarify that what is really happening in our country is the result of particularly widespread monitoring to contain the problem where ​​the outbreaks have been discovered so far, and that Italian products are safe and cannot be a vehicle for spreading the virus.'
Apple sales soar in Germany
In the meantime, sales of Italian fruit have reportedly soared in Germany as the country's consumers seek to stock up on groceries in response to the outbreak, with demand for apples in particular said to have more than doubled in some cases.
Speaking to Italiafruit News, Mirco Zanelli, sales manager of leading exporter Apofruit Group, said exporters were receiving a higher-than-usual number of requests for different products.
'Demand for apples from our German customers has increased by about 30 per cent compared with normal,' he told the website. 'This surge began in the second half of last week and has not yet stopped, at least until [Tuesday 3 March]. Green-fleshed kiwifruit also recorded an increase in orders but [this was] more contained, equal to 10-20 per cent more.'
Zanelli added that the increase in demand was most pronounced for Gala and Granny Smith, with sales of Golden Delicious and Pink lady less affected.
Klaus Holzl, sales manager at apple exporter Vog, and Nicola Magnani of apple marketing consortium Melinda both told Italiafruit things were returning to normal as the week progressed.