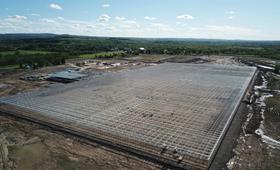 The scale of the task facing producers of greenhouse-grown fruits and vegetables when it comes to social distancing of workers has been underlined over the past week in the US state of New York, where a large number of workers at one of the world's largest fresh produce greenhouses have tested positive for coronavirus.
According to local reports, 168 out of 186 mostly Spanish- and French-speaking seasonal workers at Green Empire Farms in Madison County have tested positive, forcing the centre's management to review working practices with particular regard to worker accommodation and transportation.
The first of two greenhouses that will eventually form the 29.5ha complex opened last year. Heralded by project developer Havecon as the biggest ever single-build greenhouse project in North America, Green Empire Farms isowned by Canadian company Mastronardi Produce and already produces strawberries, cucumbers and tomatoes for sale under its Sunset brand, with peppers due to be added in phase two.
In a press conference, Madison County Board chairman John Becker said conditions on the site were found to be 'up to code' during two inspections last week. 'Individuals who did not even know they were sick have been isolated in quarantine,' he noted.
But concerns have been raised about the workers' close proximity in three hotels where they were being housed, as well as the manner in which they were being transferred by road to and from the farm.
The county's director of public health Eric Faisst commented: '[After] our targeted testing at the greenhouse, our number of active cases [across the county] increased significantly. We tested a large number of greenhouse employees to identify who was ill and who was potentially exposed, to get them into isolation and quarantine to help further stop the spread or receive any healthcare that they need.'
After two days of targeted testing, Faisst said Madison County had identified a total of 83 positives among workers of Green Empire Farms, the majority of which have temporary accommodation at two nearby hotels while they pick produce for the grower.
Those testing positive, as well as those who have been in contact with them, are now in quarantine within those hotels.
Separate tests have also been carried out in the neighbouring county of Oneida, where other members of the workforce are understood to be resident.