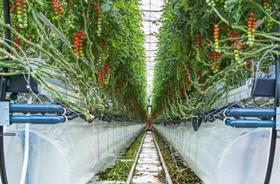 The World Expo, which was rescheduled due to Covid-19, will be held in Dubai for six months from 1 October, with fresh fruits and vegetables and food security anticipated to play a major role.
The hybrid event's theme is 'Connecting Minds, Creating the Future', with three sub-themes: opportunity, mobility and sustainability, giving participating countries and exhibitors the chance to showcase their ideas, including innovations in fresh produce and wider agriculture, not least in agritech.
One element that will be highlighted is the story of host city Dubai and the UAE. Since the country relies on imports for 90 per cent of its food, it has prioritised sustainability and the use of technology to develop products like tomatoes and peppers domestically.
Many of the greenhouses being built across the UAE utilise the latest in innovative agritech technologies to produce in water-scarce and non-arable lands such as the deserts of the Gulf. Indeed, food security will be a popular topic, especially given the wider threat of climate change.
The Expo has received the top score of 'Excellent' from CEEQUAL, the sustainability ratings scheme, becoming the first project in the Middle East to do so.
In addition to sustainability, mobility and fresh produce equally go hand in hand. Dubai is one of the best examples of a nation transforming itself into a logistics hub, with the world's busiest international airport (pre-Covid) and one of the world's busiest seaports.
Particularly during this pandemic, having a strong logistics hub has allowed Dubai to serve as an important link in feeding and vaccinating people across the world. Innovations like Blockchain and Fintech have aided mobility in our digital world to help streamline and facilitate the movement of fresh produce and wider goods and services.