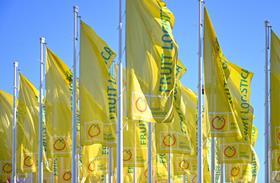 The countdown to Fruit Logistica 2022 is well underway and Eurofruit April is pleased to bring you a round-up of all the big stories ahead of this year's show.
With companies looking to maximise their exposure, Eurofruit will once again be distributed free to all visitors of Fruit Logistica, guaranteeing that it is seen by thousands of business leaders and key industry players.
Part two of Eurofruit'sFruit Logistica Edition features key interviews, news and developments from the industry's leading players in the run-up to Fruit Logistica 2022 which takes place on 5-7 April in Berlin.

As the show returns after a two-year break, we look at the latest from the world of fresh produce logistics, and cover important categories like Southern Hemisphere kiwifruit and New Zealand apples, as well as mangoes and onions. Plus, the issue has reports on crucial sources such as France, East Africa and India.

There's no better platform to promote your business across Europe. To share news and developments of your company contact mike@fruitnet.com. To find out more about advertising opportunities contact artur@fruitnet.com before 4 March.