Ecowoox label makes it easier for companies to comply with new EU regulations on packaging waste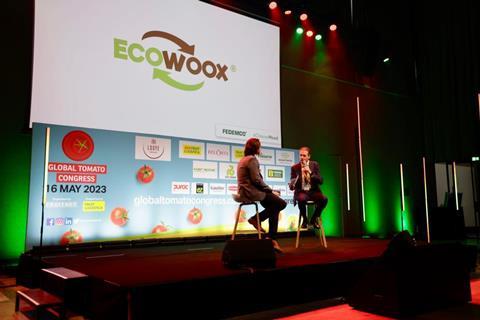 The Spanish federation of wooden lightweight packaging (Fedemco) presented its new sustainability seal at this week's Global Tomato Congress in Rotterdam. The label is designed to facilitate compliance with new EU rules on packaging waste.
Salvador Martínez, the federation's secretary, gave a presentation to more than 300 industry professionals explaining the reasons why wooden packaging is the most sustainable and responsible option for the tomato sector.
During his presentation, Martínez outlined the key points of the European Packaging and Packaging Waste Regulation (PPWR) published in November last year.
The rule introduces the concept of "extended producer responsibility" which compels growers to ensure full recyclability and established recovery rates for their packaged goods. The norm harmonises packaging policies among EU member states and imposes a 15 per cent reduction in packaging waste by 2040.
"We want to keep offering value to the supply chain, especially during these times of changing working models," Martínez said.
To facilitate compliance with the regulation, Fedemco has created its own certification: Ecowoox. The quality label enables packaging companies to certify complete recyclability, eco-design, and energy recovery for their wooden packaging.
"In this way, we are supporting the industry on its transition to a circular economy providing solutions that exceed the minimum requirements set by the legislation," Fedemco said.