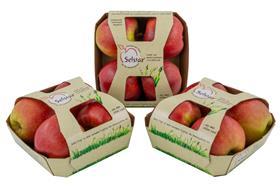 When it comes to the most important trends in fresh apples, I see five in particular which are set to influence the category in 2022. These are regionality, sustainable packaging, snacking, old varieties, and health.
Regionality
Fräulein is a new apple variety that is currently cultivated all over Germany. With this apple, the German fruit growers want to develop the concept of regionality in the food trade and at weekly markets. Also, it offers consumers an apple that meets their current taste preferences.
Sustainable packaging
Society also requires the fruit trade to provide sustainable products. This is already very much the case in the production arena, but it is also now needed in packaging. Not all consumers want to buy loose products, for different reasons. Blitzmatic packaging offers a good solution here. In small or larger units – four to one apples, depending on variety and size – they are available to retailers.
Snacking
A lot of consumers want to be on the move and flexible. This is a trend that Rockit apples can accommodate and support. This mini apple is not only easy to transport due to its size and firmness, it can also be eaten whole thanks to its under-developed core. It is a sweet variety and is therefore also liked by a wide target group.
Old varieties
Old varieties have always been and remain a trend, and something that consumers, especially the older target group, desire. Here, Elbe-Obst or respectively the Altes Land region can supply the food trade with varieties such as Red Boskoop or Holsteiner Cox.
Health
An apple a day… a phrase that is often used when talking about the enjoyment of eating an apple. Apples can contribute to a balanced, healthy diet, and Selstar can do even more, because this apple is a natural source of the micronutrient selenium. Selenium contributes to the normal functioning of the immune system and thyroid gland.
Frank Döscher is managing director of German company Elbe-Obst.