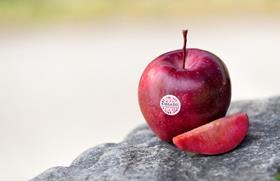 In November, the apple with the red peel and red flesh from the Ifored programme, Kissabel Rouge, is set to arrive on the Italian, German and US markets amid high demand.
In addition to its colour, KissabelRouge is noted for its freshness, crunch and flavour, according to Ifored, which sees the last as key to the future segmentation of thebrand.
"With the reddish-pink flesh having already captured the imagination of consumers, the next step is to guide them towards their favourite apple on the basis of the different flavours, from the delicacy of the yellow- and orange-peel varieties to the intense flavour of Rouge," said Emmanuel deLapparent, manager of the Ifored programme.
The aim for 2025, according to Ifored, is to establish the brand as the 'outright leader' on the coloured-flesh variety market.
"The harvest is good,' confirmedFabio Zanesco, sales and marketing manager atItalian cooperative VIP.'KissabelRouge has found the ideal environment among our mountains with an Alpine and Mediterranean climate that has coloured the apples perfectly both on the outside and the inside. We will arrive on the market slightly behind schedule, for November-December. We forecast greater total volumes compared with last year, with a medium-small size this season. Demand and interest in our main markets is high so we are expecting a positive campaign."
Other producers like Rivoira in Piedmont are in the earlier stages, with just a few hectares devoted toKissabelRouge.
'We are at the test phase both in Italy and Spain where we have given the Rouge to a selection of contacts: an unprecedented success, everybody wants it,' said MarcoRivoira. '25ha will be planted next year and we will begin commercial production. These apples are superb in quality, something we have been able to confirm just by tasting the fruit directly from the tree, without using any preservation processes. The variety is growing really well in our production zones both aesthetically speaking, with its intense colour, and in particular in terms of flavour. We have great belief in this apple: we are certain that in a few years it will become the future of the red-flesh apple, both in terms of quality and range."
"Fornowwe are still testing and learning to choose the best zones for growing high-qualityKissabelapples here in Washington state," explainedBrianna Shales, marketing director ofUS-based StemlitGrowers, a member ofNBT, the Next Big Thing Growers Cooperative. "All in all, our harvest has produced apples of good size, colour and appearance. We will carry out tastings both in stores and at trade shows in November with the aim of marketing the apples to North American retailers in the next few years."
"Although our harvest is also slightly late this year, the quality of the internal colouring of theKissabelRouge is perfect,' saidAlessia Marquart, marketing manager ofRed Apple Germany, 'a key factor given that its main characteristic is its red flesh. In terms of volume we are starting at the early stages but in the next few years we plan to increase our sales volumes tenfold in order to satisfy both domestic and international demand.'