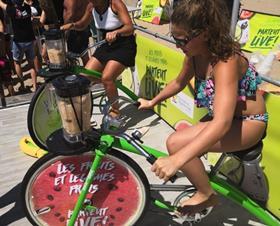 From 25 July until 16 August, fresh fruit and vegetables are on a tour of French beaches for private radio station NRJ's Summer Tour.
Interfel, the French interprofessional organisation for the fresh fruit and vegetables sector, is participating in the tour for the first time in order to promote summer fruits and vegetables.
The aim of the tour is to inspire holidaymakers to consume fresh fruit and vegetables and to increase the accessibility of such products by organising activities at the resorts.
From its 35m² space, nestled in the heart of each village on every stop of the tour, Interfel is providing fruit and vegetables-themed entertainment for holidaymakers on each afternoon.
Activities include games such as the "wheel of fruit and vegetables" and a smoothie-mixing challenge. Participants will enjoy a show featuring NRJ artists, games and gifts bearing Interfel's colours.
Fresh fruit and vegetables are expected to benefit from strong visibility throughout the event, not least thanks to multiple radio spots on NRJ and Chérie FM and a strong social media campaign on Facebook, Twitter and Instagram.